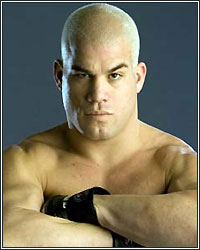 Don't be surprised if Tito Ortiz's last fight is with the UFC. Sources close to the situation have informed us that despite being courted by several other organizations, Ortiz apparently prefers to finish his career with the organization he started it with and is currently considering possible fight offers from the UFC. Although no contract agreement has been reached, Ortiz has been in negotiations and was offered potential fights with UFC light heavyweights Houston Alexander, Thierry Sokoudjou and Stephan Bonnar to name a few.

As evidenced by the standing ovation he received from the crowd in attendance during his unanimous decision loss to Lyoto Machida, Ortiz is still a big draw amongst fans. The overwhelming support he received could be one of the reasons why Ortiz, who's grown accustomed to his superstar status and fighting in front of 10,000+ fans, would prefer to stay with the UFC, undeniably the biggest and most popular MMA organization in the world.

Another reason could be that despite going winless in his last three fights, Ortiz is still only one or two fights away from a title shot. Ironically, he holds a controversial split-decision win over newly crowned UFC light heavyweight champion Forrest Griffin and he also has a draw with Rashad Evans, who will be facing Chuck Liddell later this year at UFC 88 to determine the next challenger for the UFC light heavyweight title. Depending on the outcome of that fight, there are several lucrative possibilities for both Tito Ortiz and the UFC and both sides have been working diligently to come to terms despite Dana White once saying,"I have no interest whatsoever in being in the Tito Ortiz business." He may have no interest, but if it makes dollars, it makes sense.
[ Follow Ben Thompson on Twitter @fighthype ]