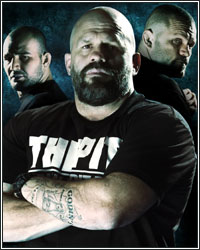 "It was pretty stupid actually to say that. It takes away any kind of credibility. It's like a little kid, 'No, I didn't say you could have that.' Yeah, it was pretty lame and then he says he didn't mean he was going to retire from MMA, he meant from being a longshore man… I just don't think it was very Christian and it was kind of tacky," stated Pit Boss John Hackleman as he shared his thoughts on Juanito Ibarra's claim that he would retire if Rampage lost to Forrest Griffin. Check out what else he had to say as he talks more about the outcome of the Griffin-Rampage fight. Plus, you don't want to miss what he had to say about Chuck Liddell's training for his upcoming clash with Rashad Evans and much more.

PC: How is everything going out there in Florida?

JH: Florida is nice. We've done the seminars and got to hang out with the Top Team guys; American Top Team. We had a good time with them. It was a martial arts seminar or I should say trade show.

PC: How long did it last for?

JH: This one was 3 days. I just had one seminar so my partner and I only came out for the day. Do gay people say partner instead of girlfriend or boyfriend?

PC: You're not trying to tell me something, are you? Just kidding.

JH: (Laughing)

PC: Did you watch the Griffin-Rampage fight and if so, who do you think won that fight?

JH: I thought that it was a great fight, but definitely Forrest won. I felt Rampage was just one punch away from a knockout and it kept everyone at the edge of their seat. He just didn't get it.

PC: Rich Franklin, Anderson Silva and Brandon Vera are coming to fight at 205. How do you think they will do?

JH: All 3 of them are coming? Rich Franklin too?

PC: Yeah. Rich is fighting Matt Hamill on the undercard of Chuck-Rashad.

JH: He's a pretty big 85er, but I think he could do well. He won't be a world beater at 205, but he will be competitive. Anderson Silva is going to do a lot better at 85, but I think he could beat most guys at any weight. Vera is good. I think he was really good at heavyweight. I think he'll be good at 205. He said he wasn't going to move to 205, so why is he doing it now?

PC: I don't know. I think he wanted to erase the Werdum fight and the UFC told him he would have to fight at 205 if he wanted to fight that soon.

JH: Okay. He said even if he got his ass whopped at heavyweight, he wasn't coming down, but oh well. Hey, what about Juanito? He said if Rampage didn't win, he was going to retire. You make a bold statement like that and not back it up? It's easy to back out afterwards and say…even if he would've got knocked out, Juanito could have said he thinks they stopped it too early. That wasn't very Christian of him to say that. It was a little on the cocky side. In fact, it was pretty stupid actually to say that. It takes away any kind of credibility. It's like a little kid, "No, I didn't say you could have that." Yeah, it was pretty lame. And then he says he didn't mean he was going to retire from MMA, but he meant from being a longshore man. Right after the fight, Rampage had the microphone and said, "I just got my ass whooped," so he can't really say anything when the fighter himself says he just lost. It's crazy for his trainer to say, "I think we were robbed." Make sure you put that in somewhere because I wanted to dog on Ibarra for doing that. I just don't think it was very Christian and it was kind of tacky because it's not if I lose, I'm going to retire; it's if he loses, he's going to retire. That puts a lot of pressure on his fighter. I think Rampage did a great job. He obviously got hurt with a leg kick so he maybe strained something. Something hurt him real bad on the leg kick. It wasn't just a regular leg kick. It hurt him in his knee. He couldn't put any weight on his left leg so he couldn't get all of his power. I think Rampage did a great job. I think both fighters, Rampage and Forrest, showed tons of heart. Rampage could barely walk and Forrest had gashes on his face and neither one of them were close to quitting. They just kept fighting and fighting. It was a real good fight. It was close, but I will say anyone that judged the 1st round for Forrest should be beaten, hogtied and then dragged behind a speeding car, but that's just me. That's the way we do it at The Pit if someone makes a bad call.

PC: I know not to come down there to judge a fight then.

JH: I didn't say we did it to black people. I said we did it to people that make bad judgments on fights. The last person we did that too was a Mexican. His name was Antonio Banuelos.

PC: I don't know what you would consider a bad judgment call so I should just stay away; although I did give Rampage round 1 as well.

JH: I think if Rampage won, it would've been bad judging, but not dragged behind a car bad judging. He was the aggressor and he landed the harder shots, but I think Forrest outlasted him. If Rampage would've won, it wouldn't be that far off. I think Forrest winning was right, but for them to give Forrest that 1st round would be like giving Rampage the 2nd round. The other ones were close, but those 2 rounds were 10-8 rounds.

PC: The Iceman comes back in September in Atlanta against Rashad. How do you feel about that fight?

JH: I've learned my lesson from Juanito. I'm not going to quit if Chuck doesn't win, or retire, or do anything stupid, but I definitely think he's going to win. I think Rashad is good and talented, but I think Chuck just has a little too much fireworks for him. Rashad's wins, I mean, he had a draw, which he really should've lost to Tito. I thought he lost by 2 points so even with the points taken away from Tito, I thought Rashad lost. He still lost to Tito, barely beat Stephan Bonnar, he just kept taking him down, and what was his other really close fight.

PC: Michael Bisping.

JH: Yeah, that was really close and he's a 185 pounder. Some people thought he lost to Bisping, but I thought he won. It was a really close fight, but a dull one. I think Chuck has a little too much power and fireworks for him, but we'll see; it will be a good fight.

PC: You guys were halfway through camp preparing for Rashad before the injury. Is it just a matter of picking up where you left off?

JH: Oh yeah! He trained right through too. He trained right through his injury. We had him going to a special physical therapist and I was training him right through it. We were just doing stuff that didn't involve his hamstring. Then he was going through physical therapy. The thing healed up in no time. I thought it would take a lot longer and now he's back training.

PC: He told me he was back full training. Is everything looking sharp?

JH: Oh yeah, he's looking really good. I like for him to not take off and then I got to get him all the way back in shape. He stays kind of right there.

PC: The win against Wanderlei was so big. I know you guys didn't plan on pulling out of the fight, but I'm sure you would have loved to capitalize on that victory sooner?

JH: Yeah, it would've been nice, but shit happens.

PC: Would it be strange for you and Chuck if he's successful against Evans and gets a title shot against Forrest to fight the guy he coached on The Ultimate Fighter for the title?

JH: I think that would probably be weird, but I don't know. I don't know if that would happen that quickly, but it would be nice. I think there are other players there, but we will see. They have some pretty good 205ers right now. It might be that fight or it might be a fight or two afterwards.

PC: Would you like to see Chuck get another fight in this year after September?

JH: Yeah, he was talking about that. I think he probably will; as often as he can and as much as he wants. I don't know how many more fights he wants to have. He doesn't get hurt in fights. He usually knocks them out or, like with Rampage, it was a quick fight and he didn't really get hurt against Silva or Jardine so I think he has as many fights left as he wants. He's a superstar and he's made a lot of money obviously. I think he could pretty much retire whenever he wants. It's best for him to retire healthy and I won't let him fight past his better days. I think he'll be fine.

PC: Machida takes a lot of heat for his style. Do you like the way he fights or do you find it boring?

JH: (Long pause) Yeah, it's a tough one! It's hard to criticize him when he beats the shit out of everyone. He does have a safety first fighting style, like Larry Holmes and Jimmy Young. A lot of boxers have that style that he has. A lot of people don't like to watch it, but it gets him the W. When he hurt Tito, it seemed like he went after him. It's his style and I'm sure he will stick to that style. He's definitely a mega-talented guy and he would be a tough guy to train for, I tell you that much.

PC: Chuck got engaged. He hasn't gone soft on you yet, huh John?

JH: No! No, he hasn't. I guarantee you that!

PC: John, good luck in Atlanta. I will definitely be out there and I look forward to meeting you out there.

JH: Alright Percy. I'll be there. Come and find me when you get there.
[ Follow Percy Crawford on Twitter @MrLouis1ana ]