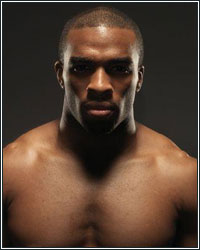 "Rampage is pretty much focusing on the bible and getting his life back together. The first thing that came to my mind was the kids man. He's got 4 kids. Everybody else was concerned about was he going to fight again or is he losing sponsors; damn that," stated MMA middleweight Gerald Harris as he gave an update on his good friend Quinton "Rampage" Jackson. Check out what else he had to say as he talked about his own future plans and much more.

PC: How are you doing man?

GH: I'm good man. I'm just training and resting.

PC: You've already had a fight outside of the UFC since TUF. How did that fight go for you?

GH: The guy was real good at submissions. He was a little bit over .500 fighter. He was like 23-20 or something like that. He had been fighting for about 10 years and we came out swinging and he grabbed me, which was a mistake. I picked him up over my head and then finished him with ground and pound pretty quickly.

PC: You gained your name in the IFL. How did it feel for you to see them go down the way they did?

GH: Actually, I was only doing one fight contracts when I was in the IFL. I was just working out with Team Quest and one of our guys got hurt and I filled in for that fight and I lost, but I got real popular because of the way I handled the loss and I beat the guy down pretty good. After that, I had one more fight, but a lot of people know me from there. I feel bad for them because the more MMA the better. I heard a long time ago they were spending more than they were getting back.

PC: How did you end up trying out for TUF and how was that experience for you?

GH: I was training with Team Quest and I built some good connections there with people who had already been on the show. Ed Herman put in a good word for me. You can have a recommendation in any business. Hell, if somebody knows somebody, that's your way in the door. He put out a recommendation for me and it worked out. I got on there and it was crazy; nothing like I expected.

PC: What was the craziest part of being on there for you?

GH: It was hard being locked up in a house with 16 dudes with no TV, no radio, no nothing. The hardest thing about it was being away from my kids besides all of the other crazy stuff going on in the house. I don't know if you saw the breaking of walls and all of that. It was hard man not being able to communicate with my family at all.

PC: You stayed to yourself pretty much on the show. Was it tough to not get involved in the extracurricular things that were going on in the house?

GH: It was cool. I wasn't really worried about TV time. Some guys were going out of their way to get that TV time and if it was in me to be crazy, I would've, but I was on a mission. I wanted to win that contract and I came up short, but a lot of people remember me. I got popular off of that, but I wasn't going to go there and put up an image that wasn't me. I just did me man. It didn't work out, but you're going to see me in the future.

PC: Is your goal to fight your way back to the UFC or an Affliction type of organization?

GH: It's always good to be in the UFC; that's always a goal, but I gotta feed my kids. I have to go where the money is. My goal right now is to get in the UFC. I've spoken to Dana White and Joe Silva and that's my goal. It's nothing against any of the other organizations. I will fight for anybody, but that's where I want to be. Affliction is really big and that new show was crazy man. They have a roster full of veterans and I've only been in the game for 2 years.

PC: Did you come up watching TUF and if so, was it weird to have to try and fight your way into the house?

GH: I always watched the finale. I was coaching high school wrestling at night at the time and it was always at the same time the show was on or Dave Chappelle would be on (laughing) or something else from stopping me from watching. I had friends that was on the show, like Mikey Barnett, but I never watched a full season; just the finale. Yeah, they kind of played me. I was like, "What the hell?" It was a real stressful fight and I felt like my back was against the wall so I wasn't going to go in there and throw some wild punches because I'm not much of a banger so I played it safe. I pretty much dominated the entire 10 minutes.

PC: We all saw you in the back getting Rampage loose before his fight with Forrest. Did you think he won that fight?

GH: I can't answer that question because I'm going to be biased because that's my boy. Plus I watched it ringside so all I was worried about was what Rampage was doing. I can't say man. I don't really want to speak on it. He took the loss well in the locker room…you take things better in front of people than behind closed doors. He was just worried about what he did wrong and he was just ready to fight again.

PC: He's going through some things right now. Have you spoken to him and how is he doing?

GH: We have a circle of friends that we train with and he let the main guy know that he's doing fine. Rampage is pretty much focusing on the bible and getting his life back together. The first thing that came to my mind was the kids man. He's got 4 kids. Everybody else was concerned about was he going to fight again or is he losing sponsors; damn that! That man is a father and that doesn't mean if you're not a father, you have less of a man; that just means you have more responsibility. That was the first thing I thought about. I couldn't sleep. I hadn't heard from him. He's like my brother. I just found out Rampage is doing good and that helped me sleep. It's weird because if you go on YouTube and type in "Rampage wins the title", maybe 2 things will pop up, but if you type in "Rampage gets arrested", it's like 5 pages of stuff. I love the fans and they make the sport, but people will turn their back on you real quick. Your real fans will worry about you as a person and not as a fighter.

PC: When do you think you will fight again?

GH: I'm just taking fights as they come for the right pay and with the right opponent and I'm just trying to work my way back to the UFC. That's my strategy. I'm training my butt off; traveling and training. I stay in shape because I may get a call tomorrow to fight. I'm not always up for short notice fights, but if it's the right fight and right pay, I'm in there.

PC: I appreciate the interview G. Send our regards to Rampage and I hope you reach your goal of fighting in the UFC again. I'm sure you will. Is there anything you would like to say in closing?

GH: I want to give a shout out to my momma because she's been getting ignored in a lot of interviews (laughing) and I got a new boxing coach, Pepe Johnson from Ghost Dog Boxing, and I gotta put that in there. That dude changed my life as an athlete and a person. He's helping me with my weaknesses and also helping me focus on my strengths. He's the man right now. I have to thank Arizona Combat Sports because I've moved to Phoenix, Arizona and I'll be training with CB Dollaway and Matt Riddle. Did you see CB get that on Jesse?

PC: Yeah, CB is crazy with that man.

GH: Man, he hit that on me like 10 times in practice man. The sad thing is he'll be sitting there like, "Here it comes!"
[ Follow Percy Crawford on Twitter @MrLouis1ana ]