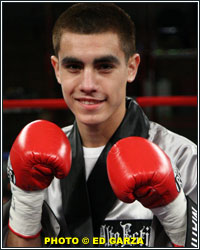 It wasn't so much the fact that Robert Marroquin stopped Roberto Perez a few weeks ago at the American Bank Center in Corpus Christi; after all, the Dallas, TX based bantamweight prospect was supposed to win the fight, but it was the manner in which Marroquin bludgeoned his outmatched opponent that has drawn the attention of many fans and boxing insiders alike.

Growing up in the tough, working-class, Oak Cliff section of Dallas, Marroquin's foray into the Sweet Science was not one of preordained measure, but rather of a father's concern for his son's downtime. "Well, actually, before I got into boxing, I played baseball," Marroquin explains in a recent interview with FightHype. "The season was over so my dad was like, 'well, I don't want you to be in the streets or anything like that. I want you to be involved in a sport so you just won't be out there doing bad stuff or stuff you are not supposed to be doing.' So we went to this flea market and there was some sparring going on and my dad looked at me and said, 'hey, would you like to try boxing.' I was like, 'yeah, sure!'"

Marroquin continues, "I was still hoping to play baseball, but I started to like boxing after a month or two and I kept on going. That's how I'm here. It was just a coincidence that I started likening to it and everything and kept on going with it."

The former pitcher and shortstop now turned to throwing leather of another kind and soon found himself in the position of one of Dallas' most touted amateurs. "The only national title I got was the Pan American box-off which made me qualify for the Pan-Am games in 2007," Marroquin explains of his amateur background. "After going to the Pan-Am, I made the Olympic trials and I lost to Gary Russell in a double elimination in the finals. I had to fight him three times in a week. It was pretty tough competition back then. I lost by four points I believe. It was a close fight; I thought I had it. It was hard to go in there and beat the favorite. I had a more professional style and they didn't want a slow guy going into the Olympics."

Indeed, Marroquin's style was more suited for the professional ranks. A relentless pressure fighter usually does not fair very well in the amateurs where volume of punches is the deciding factor in determining a winner. "Yeah, they actually made an offer to me to stay an amateur for another four years and try to make the Olympics," Marroquin recalls. "I was like, 'well, I had already paid for school and everything.' I go to Northwood University in Cedar Hill, TX and we had gotten the loan and everything and I just didn't want to throw that away. Later on, Top Rank came with a deal and I went with it and decided to go pro. That was in January."

Already in his sophomore year and perusing an Accounting degree, Marroquin admits that it is tough to juggle the responsibilities of a full-time student with that of being a professional fighter.

"It is pretty hard," Marroquin admits. "I go to school, come back home and try to get the homework done. I go back to the gym and then I come back home around 8 or 9 PM and try to finish homework. Sometimes I have to stay up all night trying to finish homework. It's the same routine all week. I try to get a little bit of rest on the weekends, but usually, I don't. It's pretty complicated, but I'm trying to get it done as fast as I can. I don't want to have any regrets at all. If I don't have nothing to do in boxing, then at least I have something to rely on."

Now under the guidance of one of boxing's biggest promoters, Marroquin admits that initially his team was leaning toward signing with Golden Boy Promotions. "Well, we were talking to Golden Boy before Top Rank," Marroquin explains. "Golden Boy was going to sign me, but they wanted me to go two or three fights as a pro and then they would see if they'd sign me, but Top Rank was like, 'well, you did enough in your amateur career.' They were like, 'you don't have to prove yourself to us.' So I was like, 'alright then.' Plus, the way I saw it, Golden Boy has so many boxers that they don't pay attention to an individual. [Bruce Trampler] and all these guys at Top Rank have made a pretty good schedule for me as a professional. Eric Gomez, he was over here telling me I had to prove to him that I was going to do something as a professional and I'm like, 'what is there to prove?' They wanted me to fight against this undefeated guy. You know, I'm 18; I'm trying to take it slow. There is no rush with me and that is what Top Rank said, 'We are just going to take it slow for now. We know your background as an amateur so you don't have to prove anything to us.' And that is what I wanted. I don't want to be rushing myself right now and I got college to go to. I'm a full time student. "

Marroquin admits that he still was ready to sign with Golden Boy Promotions until his father brought up a very valid point. "He said look at it this way, you see all these fighters, De La Hoya, Mayweather, Cotto, they came up with Top Rank and that is who made them. My father was telling me all of this stuff and I was like, 'he actually has a point.'"

It was a decision that Marroquin is proud to have made. After all, at the young age of 18 and a full-time college student, time is on his side. "Bruce and all these guys from Top Rank have been moving me pretty well. I don't have to be in a rush. I also don't want to be fighting fighters that are like 0-8. I have to prove myself, but not against top fighters at this stage of my career."