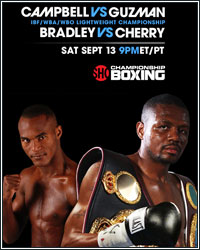 Sources close to the situation have just informed us that the clash between former super featherweight champion Joan Guzman and WBA, IBF & WBO champion Nate Campbell is officially off. Late last night, Guzman was forced to go to the hospital after suffering from dehydration and coughing up blood.

After coming in 3.5 pounds over the 135-pound limit, Guzman was given two hours to make the weight, but opted not to, instead returning to his hotel room. Hours later, Guzman was taken to the hospital for observation after coughing up blood. A commission doctor would later examine Guzman at the hotel and determine that he was not fit to compete. Due to the seriousness of the situation, the fight with Campbell has been called off.

The WBC jr. welterweight clash between champion Timothy Bradley and challenger Edner Cherry will now be televised as the main event. "I did my job," stated a frustrated Nate Campbell.