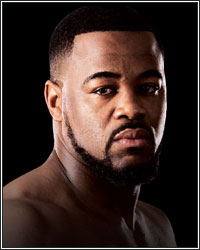 "I knew I was going to get his ass. I knew I was going to get him and when I did, it was like people were about to cry. It got so quiet in there…I'm excited to fight somebody a lot like myself. We were both Ultimate Fighters and now it's season 1 vs. season 2," stated UFC light heavyweight Rashad Evans as he talked about his impressive KO of Chuck Liddell and his future plans. Check out what else he had to say about his performance, the criticism he's received about his celebration, his anticipated title challenge with Forrest Griffin and much more.

PC: Congratulations on a huge win.

RE: Thanks man. I appreciate it.

PC: You had a great strategy going into the fight with Liddell. How was preparation going into that fight?

RE: Preparation for the fight was good man. I trained down at Jackson like I always do. I had Paul Buentello come down to help out and Keith Jardine was a real big help in the camp. And of course I had all of my other teammates: Joey Villasenor, Nate Marquardt, GSP and all of those dudes, man, was a big help.

PC: Did you think you were frustrating Chuck in the first round because it appeared that way?

RE: Yeah, yeah, yeah. I was definitely frustrating him. He was real upset I was moving like that because he couldn't punch like he wanted to, you know? He caught me with one good one and it gave me confidence more than scared me.

PC: I think you have a very underrated chin. How much did fighting the big boys on The Ultimate Fighter prepare you for a big puncher like Chuck?

RE: It helped out a lot and my sparring partners are very heavy-handed. Keith Jardine is a big puncher and Paul Buentello is a really, really big puncher. When I spar, I don't wear headgear either so I'm used to being hit pretty good.

PC: Not to say that you wanted to be hit by Chuck, but once you tasted his power, did you feel like you had the fight in the bank?

RE: Yeah! After he hit me, I was like, "Ah man, that's it?" I knew I could take the power of his punch. When he cracked me, I was kind of circling and he dropped the right hand right on my chin and I was like, "Man, that's it?"

PC: When you landed the right hand, were you shocked that he went down the way he did or did you feel you had the full impact on it when it connected?

RE: I was shocked because I was throwing it in a combination and I wasn't trying to hit him as hard as I could. I was trying to throw as fast as I could. I was trying to hurry up and get my combination in and my corner, Mike Winkeljohn, was telling me that the overhand was open. He wanted me to hit it earlier in the 1st round and I tried it, but my timing was off. He was like, "The overhand is open. The overhand is open!" and then I shot it and honestly, I was trying to catch him with that left hook. Yeah, I was really trying to land that because Chuck always finishes with his left hand low so I knew the right combination would catch him.

PC: I couldn't believe where Chuck was coming from with that uppercut and you being a boxing fan, I'm sure you knew that's a major striking error. Watching film on Chuck, were you seeing some of his technical errors in his standup?

RE: Yeah, there are many holes in Chuck's game. First off, just not bringing his hands back to home base and he's been getting away with it because he makes you think he's a little bit closer than he actually is so when you try to throw your punches, he leans back and then drops his punches over the top. He's had success this whole time because he knows how to keep people at the end of that because he's actually farther away then he appears to be so that made him a great counter puncher.

PC: When Chuck pressed you against the cage in the 1st round and you fired off a 5-6 punch combo…I've spoken to fighters that said you're punches looked faster and harder than Chuck's. Did you get that impression and did that build confidence for you as well?

RE: Yeah! I knew I had to be the last one throwing punches. I couldn't be the one to let him finish the combination off on me. After each exchange, I had to be the last one throwing punches because when he came in, he was shooting his punches and I had to shoot out mine and keep my head moving. After those exchanges, I was thinking, "Man, I could do this all night!"

PC: Yeah, I was shocked you never went for one takedown against Chuck. You proved a lot of people wrong man and now you have set yourself up for a title shot against Forrest Griffin. How pumped are you for that?

RE: I'm excited about it man. Forrest is a tough fighter. He's one of those fighters like myself that everybody always counts out. Everybody is always like, "Forrest is going to get killed in this fight," and he always proves everybody wrong. He's my type of fighter. Forrest has amazing heart. His heart is probably the biggest thing in the world man. If you credit a fighter with anything, you have to credit Forrest's heart. I'm excited to fight somebody a lot like myself. We were both Ultimate Fighters and now its Season 1 vs. Season 2.

PC: I'm all for expressing emotion and celebrating after fights because it's a lot of hard work that goes into these fights. It's easy for me or anyone else to sit on my couch and criticize a guy for celebrating his ultimate payoff, which is victory. What do you think of the criticism you have received for your post-fight celebration?

RE: I think it's…to be honest, I didn't celebrate at all to be honest with you. I did a little inside joke with my people and that was about it. I didn't get up and run around the ring with my arms spread out like the Iceman does. I didn't do any of that. I didn't jump on the cage. I didn't do any of that. It's so funny how people seem to forget how every single time Chuck knocks anybody out, whether it be Randy Couture, Tito Ortiz or Babalu, this dude is running around the ring like a mad man screaming, but when I do what I do, they get mad at me and say I'm cocky for celebrating. If you watch the tape, look how long it took for me to do anything at all.

PC: And you did go check on Chuck to see if he was okay.

RE: Yeah, and that's the thing they didn't show. I went and checked on him a couple of times, but they didn't show it because…like when I went to go get my shirt on and stuff like that, I went over there and checked on him real quick. He was just out for so long so the doctor kept pushing me away and the camera crew wouldn't let me go and check on him.

PC: I got a couple of phone calls afterwards with people saying they didn't like the way you celebrated and I thought it was comical because everyone seemed to like Wanderlei jumping on the cage and celebrating while Jardine was still unconscious. I think a lot of it may be carryover from TUF and I'll keep it real, I think some of it is the fact that you're black.

RE: That's a lot of…people hate to say that. They will never say that's what it is, you know what I'm saying? If you think about it, it's like this, I'm not a white dude. My fighting style, that's not how I move and they're mad at me because I'm black. I got soul or rhythm or whatever you want to call it, but that's just how I get down. When I used to wrestle, I was the same way and that's just how I get down, but some people feel like I'm supposed to do it like they do it. Its like, "Oh, that's not how it's supposed to be done." That's not the way you do it, but that doesn't mean that's not how I do it.

PC: People have to realize that everyone let's their emotions out differently; from dancing, to screaming and in some instances crying. It's not manual on celebrating.

RE: Exactly. And everybody does something. The funny thing about it is that that was the least…if I could think of all of the celebrations that the UFC has ever had, that was the most calm celebration I've ever seen. I'm not just saying it because it was me. I'm just saying it because it was. I walked around the ring and I did a little "Sanford and Son" impression because everybody said I was going to lose and what did Fred Sanford do when something happened that was unbelievable? He had the big one, you know, "Elizabeth, I'm coming to join you." Everybody does something. Like Anderson Silva does his dance, Thiago Silva does the throat slash and Brandon Vera does his Hawaiian surfer dance. Everybody do they own little thing, but they don't want to say that at all. I do a little dance and they're like, "Oh my God that's excessive."

PC: Immediately following the knockout, you put your hands up like, "I told ya'll!"

RE: Yeah! I knew I was going to get his ass. I knew I was going to get him and when I did, it was like people were about to cry. It got so quiet in there. I was like, "Damn!"

PC: Do you feel like a lot of fans just don't want to embrace a new wave of fighters with some of their heroes on the other side if 30?

RE: I definitely think that's what it is.

PC: Your mom said she showed you some Bruce Lee for the Salmon fight. She must have showed you a little Mike Tyson with that overhand right you threw?

RE: (Laughing) Yeah man. I've always been on Tyson. I'm a big Tyson fan. I'm always trying to keep some of his moves in my repertoire. Like Mike said (in his best Tyson voice), "I'm the greatest fighter of all time. Chuck Liddell knew he was in trouble the minute he signed on the dotted line!" See, I didn't want to break that out because I know how people are when I do stuff like that.

PC: I hope your pregnant wife is okay. How is she doing?

RE: She's doing good man. Everything is good!

PC: That's good to hear my man. Well, hell of a knock out my man. I look forward to your fight with Forrest. Anything you want to say to wrap up this interview?

RE: I would like to thank my manager Jervis Cole man from Cold Blooded Management. He a good dude man. He holds it down. I also would like to thank Progenics my sponsor and smartphoneinsurance.tv man to get your iPhone insurance. Everybody got iPhones, but they ain't got no insurance.
[ Follow Percy Crawford on Twitter @MrLouis1ana ]