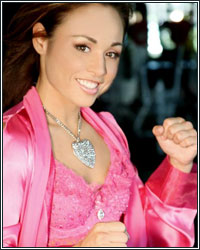 "It's been a year since my last fight so I've definitely grown in MMA. I'm coming to win, number one, and hopefully by knockout or some kind of dramatic fashion," stated female boxing sensation turned mixed martial artist Elena "Baby Doll" Reid as she talked about her upcoming October 11th clash with Stephanie Palmer at "Night of Combat II." Check out what she had to say about the fight, the difference between MMA and boxing and much more.

PC: How are you doing Elena?

ER: Super busy, but everything is good. I don't know how much you know about me and my career, but I just moved back in the last couple of months and started training in my hometown. I love it. I have Arizona Combat Sports out here and I have a great team. I'm privileged to be working with the team that I am with. I have ASU out here, which is where most of my family graduated from, and that's one of the main reasons I came back so I've been good, just busy.

PC: How is training going for your October 11th fight against Stephanie Palmer?

ER: It is really good. My body hurts like everywhere. The thing is I obviously have a boxing background so Tommy Brooks comes down here and helps me out. As far as Arizona Combat Sports, their coaches are great Muay Thai trainers and most of the coaches there are all Division 1 wrestlers so I get a lot of that training. I have a little…Filipino Pat is what I call him. We're both half-Irish and half-Filipino so I train with him. He's bigger than me, but he is as close to my size as I'm going to find. He's been awesome. It's been really neat to have him as a partner and everything. I've learned a lot and really worked on my wrestling and like I said, I'm banged up and bruised up everywhere.

PC: The general thought is that if a boxer gets into MMA, they can pretty much abandon training standup and concentrate on ground work. Is that the approach you took?

ER: The thing for me is I don't have to work on my boxing, but I love it so much and it's been embedded in me for so long that it's really tough not to do it. When I'm at pro practice, I definitely work on more wrestling than my standup, but on my own time, I will always work on my boxing. The focus is definitely more on wrestling and Jiu Jitsu.

PC: Would you like to continue with your boxing career?

ER: Yeah, definitely! Boxing is my heart and will be forever, but it's just kind of hard to go with it in the US. To me, it's so many opportunity for girls in the US in MMA and business-wise, it's just a lot easier to do MMA right now. And it's a lot of fun actually. It's like being a kid in a candy store. I'm learning so much new stuff right now. Boxing is still there. I leave all of my options open and if there is something that arises as far as me getting another title, I'm for it.

PC: Why do you think MMA is so much more popular than boxing right now?

ER: I think, as far as marketing goes, the fan base for boxing and MMA are completely different. The thing with MMA and the business of it, they definitely have the business right. The UFC, for instance, is a brand almost. People might not even know what MMA means, but they know who the UFC is. They branded it right. The visibility, it is the fastest growing sport to where boxing, you don't see boxing bumper stickers everywhere. Everywhere you drive, there is a Tapout or Xtreme Couture or some type of MMA sticker on people's cars. Business is much better in MMA than boxing and hopefully boxing will learn from it and go that route as well.

PC: How did this opportunity come for you to compete on this card and how much have the Couture's been a help to you?

ER: Kimi and Randy are a blessing for sure in my life and they even helped with my boxing career funny enough. They have extended their hand and it's so neat to see how much Randy supports women being in the sport and how much they want the sport to grow. Anything I need, they are there and their definitely people I can trust and are positive influences and role models in my life.

PC: Boxing is a little different strategy-wise from MMA. How much do you know about your opponent Stephanie Palmer and does it matter to you?

ER: I'm a very precise fighter and it's really funny because there are so many things in life I'm neither here or there about. But when it comes to fighting, I want it to be right and I really want to be the best. It's very important to me to look up who I'm fighting and find out as much as I can. In MMA, it's not that easy to find things on your opponent to where in boxing, it's more at your disposal. You can do all of the research in the world and sometimes you just can't find what you need to find. I know that Stephanie Palmer is from Alabama and she is very game and she is 0-2, but she's fought tough girls. Watching the tape on her, I can't really tell what she masters. I can't even look up if she's a standup fighter or not, but all I could tell is that she put up a good fight. I know I trained like a mad woman for this fight and I know it's going to be an exciting fight with her and that's what I love about the whole thing. Maybe we'll find out what her strong points are; maybe she is just well-rounded.

PC: That's another difference between boxing and MMA. In MMA, you could lose a couple fights in a row and still be in contention to where in boxing, 2 loses in a row is almost like a career ender.

ER: You lose in boxing and you're depressed forever. It's like, "What am I going to do?" It's horrible! In MMA, you could tap out and live another day, but if you ever quit in boxing, it's the end of your career; don't even think about coming back. You could tap out in MMA and it's completely respectable and you live to fight another day. It is a little different for me, the mentality part of it, but I'm learning love…like I said, boxing really is my heart and it will always be in my heart. MMA, I'm progressing with the sport and it's still so much to it for it to grow and I would love to be a part of that any way I can.

PC: You are an extremely attractive lady. Is it a turn off for men when they find out you're a fighter?

ER: No, (laughing) not at all. Sometimes you would think that they would, but I think it's the way I carry myself. I'm not at all…obviously I love the sport and I'm an athlete; I'll be just as tough as anybody else, but when it comes to socializing or being around other people, I'm very much a girl. Those things are very much important to me so no. I think most people don't really believe it more so than anything else (still laughing). I think if there was a guy that had a confidence problem, he might have a problem with it, but no, it's never been an issue (laughing).

PC: What can the fans who missed your MMA debut expect from "Baby Doll" this time around?

ER: Excitement; just pure excitement. It's been a year since my last fight so I've definitely grown in MMA. I'm coming to win, number one, and hopefully by knockout or some kind of dramatic fashion.

PC: I appreciate the interview. It was a pleasure talking to you. Good luck on the 11th. Is there anything you want to say in closing?

ER: I want to thank everyone, especially Kimi and Randy, and I'll see you guys on the 11th!
[ Follow Percy Crawford on Twitter @MrLouis1ana ]