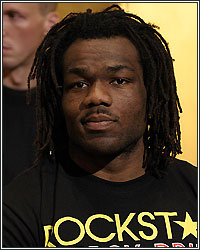 FightHype.com brings you closer to the fighters with this unique series. Go beyond the hype to find out what makes your favorite fighters tick. From favorite movies, music and shows to childhood heroes, you'll get an inside look at their life outside of the ring/cage. So without further ado, get to know UFC light heavyweight contender Sokoudjou.

NAME: RAMEAU THIERRY SOKOUDJOU

ALIAS: AFRICAN ASSASSIN

LIGHT HEAVYWEIGHT CONTENDER


---


Favorite movie(s)?

The Matrix, Fearless and Blues Brothers

Favorite TV show(s)?

CSI, The Unit, Contender Asia, Law and Order and Criminal minds

Musical taste?

Anything that's got a good rhythm

First job?

Cleaning on a fishing boat

First car?

Giraffe in Africa and Toyota Celica in America.

If you weren't a fighter, what would you be doing?

A porn star

Favorite animal?

Lion

Favorite food/meal?

Rats with Bobolow. Sorry...don't really know the name in English.

Favorite junk food?

Brownies with Vanilla Ice cream...yum!

Hobbies/Interests?

Movies, pool, swimming, traveling and talking on the phone. Didn't have phones in the jungle so...

Childhood hero(es)?

Mike Tyson, Bruce Lee, Jacky Chan and Jean-Claude Van Damme

Favorite fight(s)?

Big Nog vs. Fedor

Favorite fighter(s) to watch?

Dan Henderson and Matt Lindland

Pre-fight ritual?

Usually like to watch movies

If you could fight anyone in time, who would it be?

Whoever can get me to a bigger paycheck!

If you were a superhero, which one would you be?

The Hulk. He's bad ass!

Celebrity crush?

(Laughing) You trying to get me in trouble? I will say Michaela McManus from Law & Order SVU. Love her eyes.

Greatest moment?

My first win in Pride 33

Most painful moment?

Knowing that my mom got cancer

Most embarrassing moment?

Shoot...got so many, I don't even know where to start. Getting my butt kicked on national TV.

Bonus: Name something that most people don't know about you?

Hmmmm. I think I'm shy...A LOT! Does that count?