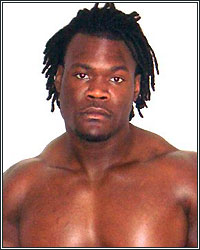 "I think I definitely bring athleticism that a lot of these guys don't have to the table. A lot of these guys at 230-240 can't move like a guy that's 205; I can. I've always had that athleticism that allows me to move very well for my size and my weight. At 240 pounds, I move like a light heavyweight," stated newly signed EliteXC heavyweight Ronold "Abongo" Humphrey as he talked about what he brings to the heavyweight division and what the fans can expect when he gets set to make his debut. Check it out!

PC: How is everything going my man?

RH: Everything is going extremely well. I'm just getting ready and getting myself in proper condition. I'm training extremely hard. I just signed a contract with EliteXC so things are really looking up. I'm just getting prepared so that I could go out there and make an example out of somebody.

PC: Who are some of the people you are training with?

RH: I have two gyms that I train out of. The main place is Top of the Line Fitness with Gary Brown. Gary Brown is real famous as far as striking is concerned. He's trained over 13 world champions. He trained Rick Roufus when he was in K-1 and Buster Douglas. He's trained a lot of guys in standup and he's phenomenal. I train my grappling and ground game with Roberto Traven. He's out of Unit 2 down here in Georgia. Roberto is a 5-ime American champion. This guy has a ton of knowledge.

PC: What are your strengths as a fighter?

RH: I would say that I'm a well-rounded fighter. My foundation is grappling and my ground work. I started training back in '98 and I had my first professional fight back in 2000 in South Africa and even then, I was just a grappler. I was one of those guys that didn't want to do nothing but submissions. I was extremely strong in submissions and it wasn't until 2003 that I really fell in love with striking and the standup game. Now, at this point, I would say that I prefer to standup, bang and strike with guys. I won't go down to the ground unless my opponent takes me there. A lot of times, guys will take me there and be surprised that I am extremely comfortable down there because that is my foundation. They wouldn't know that because they just see me knocking guys out with kicks and so fourth like I did on the BET reality show "Iron Ring."

PC: How was the "Iron Ring" experience for you?

RH: It was actually awesome. I enjoyed it because I had a really good relationship with the executive producer of the show, Davis Isaacs. I understood the vision that they had for that show. I know a lot of people in mixed martial arts truly didn't understand that show. They thought it was a farce and they didn't like the fact that they had rappers involved because they felt the rappers didn't know that much about mixed martial arts. But one of the main goals they were trying to achieve is bring MMA into the mainstream. I seen a lot of people in a lot of different organizations…I even saw Dana White in an interview say that he didn't feel MMA has reached its full potential or mainstream as of yet. It's just now traveling into the mainstream arena. BET was trying to take artists that are already mainstream and cross that with MMA to get people that wouldn't normally look at mixed martial arts involved and it did. They were successful. I read an article that was put out on Yahoo sports giving the dynamics and statistics of the show and it was the 2nd highest rated show in the network's history. It had nearly a million viewers for every episode. That's not many viewers off of what The Ultimate Fighter show receives. It was a very good experience there. I liked what they were doing. I enjoyed the project and I would definitely do it again if there was a second season.

PC: How big of an adjustment will it be for you to go from a ring to a cage?

RH: There is going to be some adjustment because it's a big difference between leaning on the ropes and working the cage. I train and have trained for years out of a cage in our training studio. It was actually a big adjustment for me to fight inside of a ring. I didn't like it because it didn't feel comfortable to me. I feel a little more comfortable in the cage.

PC: What do you bring to the heavyweight division that you feel they are lacking?

RH: One of the things I think the heavyweight division lacks…and I'm not downing any of the heavyweights…I think they have a lot of quality heavyweights out there that have a lot of experience, but when it comes to things like athleticism, movement, mobility and striking ability, I don't really see that in the heavyweight division. They have some guys that are good in submissions, but the majority of the fast movers and people that have good combinations with their punches and kicks are in the lighter weight divisions. Unfortunately, I think that the heavyweight division has kind of dwindled away in mixed martial arts. Most of the headliners you see on all of these tickets are in lighter weight divisions. I think I definitely bring athleticism that a lot of these guys don't have to the table. A lot of these guys at 230-240 can't move like a guy that's 205; I can. I've always had that athleticism that allows me to move very well for my size and my weight. At 240 pounds, I move like a light heavyweight. I can bring an excitement and unpredictability in the striking game and the ground game that a lot of these guys just don't have the ability to do.

PC: How does Abongo vs. Kimbo Slice sound to you?

RH: It sounds really good. I think I could absolutely beat Kimbo, but I look at guys like Kimbo and I have a lot of respect for him. A lot of people like to down Kimbo and say he's not a good fighter, but I think he's done a lot for the mixed martial arts world. I don't know anybody that didn't come from a sports arena, like a football player or a wrestler, and come in making 6 figures in their first fight. Even though people down him, it's only going to help those of us who are coming into this sport because he's raising the bar. Do I think he is the most well-rounded fighter out there or has the most skills? No I don't. I appreciate him for what he's done for the sport.

PC: When can we expect to see your EliteXC debut?

RH: I have some possibilities. I don't want to state anything now because I don't know how it's going to work out, but I have some possibilities coming up soon. Hopefully within the next couple of months, you guys will see me in there.

PC: Thanks for your time. I look forward to watching you in EliteXC. Is there anything you want to say in closing?

RH: I just want to thank you for the opportunity and I have to thank my manager Gary Klusty and Out Cold Sports Management for everything they have done for me.
[ Follow Percy Crawford on Twitter @MrFighthype ]