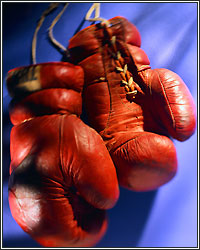 Junior welterweight Albert Rodriguez is in a state of intense focus. Sitting on the edge of a chair, his eyes are transfixed on the action taking place inside the ring of the Texas Select Boxing Club in the East Dallas Texas suburb of Garland. Rodriguez had just gone six hard rounds of sparring with two of North Texas' top 141-pound amateurs in Jordan Jones and Zach McDonald. As Rodriguez sits upright in his chair, drenched in sweat and practicing the controlled breathing that fighters use to slow their heart rate, a look of intensity illuminates his eyes while he yells words of encouragement to his younger brother, currently in the ring sparring. For the McKinney, Texas-based fighter, there is an air of restlessness tinged with urgency that is evident in his face. For Rodriguez, his time is now.

Despite a respectable professional record of 8-0-1, with four of his wins coming by way of knockout, Rodriguez is less than content with his career thus far. For the 24-year-old fighter, frustration arises from the lack of fights being offered to his team. "Fights for me, I'm from a small town and they don't come," an exasperated Rodriguez would tell FightHype last Saturday. "[Fight's] just doesn't come. I don't know what it is. I feel like I'm pretty good, but apparently not a lot of people [share that thought]. I don't know, I try my best, but I don't get fights that easy."

With the lack of fights preventing the young pug from making a living in the sweet science, Rodriguez took a two-year hiatus from the squared circle. But Rodriguez is a fighter. The blood of a warrior courses through his veins. To try and ignore it would be futile. They say good things come to those who wait. For Rodriguez, a two-year fight drought was snapped with a phone call from Golden Boy Promotions. "I have been off for quite a while, been off for about maybe two years," Rodriguez recalls. "I get a call from Golden Boy Promotions saying they got this guy, Hector Sanchez, he's 16-0, so I figure 'hey, it's a chance'. It's a chance I have to take sooner or later to get noticed."

That 'chance' that Rodriguez speaks of is a shot at impressing not only the brass at that LA-based promotional giant, but to the fans, media, and television executives that are sure to be in attendance at Golden Boy's card at the Morongo Casino Resort & Spa in Cabazon, California this Friday night. It's a big step up in terms of exposure for Rodriguez, who seems unfazed that he is in effect the 'opponent' for Golden Boy's Hector Sanchez. Sanchez, who boasts an unblemished record of 15-0, 6 KOs, is clearly the favored fighter and at 6'2", presents a tough, physically opposing presence. None of that is of any concern to Rodriguez, who exudes a quiet confidence and singular focus in the gym. Not even the relative short notice given to his team rattles the young Texan. After all, in boxing, one is taught to roll with the punches, both literally and figuratively. "It was kind of short notice," Rodriguez admits. "They kind of told me two weeks [ago], but they told me, 'we're not sure, we might not take this fight'. Then, I think it was yesterday, they called me and told us they would take the fight. The way I see it, for someone like me, I got to take what I can get."

In many ways, Friday night presents a do-or-die situation for Rodriguez. Win and the amiable young fighter is instantly transformed into a known commodity, fights will be offered, pay will be increased. However, lose and Rodriguez is right back to square one. An unknown fighter forced to toil in obscurity at his chosen craft. The stakes are high, but as I mentioned before, Rodriguez is a fighter. "You know, a fighter like me, I think, should be taken care of," Rodriguez rationalizes. "But I'm not known and in order for me to get known, I'm going to have to take the fights like this."