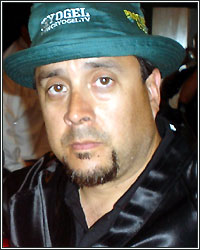 "I have the formula that can make Wanderlei Silva beat Rampage easy; easy! And I also have the formula where I think Rampage can beat Wanderlei Silva easy and I've always said that. I don't care how many times Wanderlei beat Rampage and how he beat him, I just know this and I told people because they were telling me Wanderlei was asking for me. I ain't believing nothing until I get the phone call from him. Otherwise, it's just a big rumor to me," stated world-class trainer Juanito Ibarra as he talked about the upcoming third fight between Wanderlei Silva and Quinton "Rampage" Jackson. Check out what else he had to say about the fight and much more. Plus, Ibarra, who at one time trained Oscar De La Hoya, shares his thoughts on the Golden Boy's recent loss to Manny Pacquiao.

PC: I know you're not too pleased with De La Hoya's performance. What did he do wrong in there?

JI: What upset me so much was that he wasn't taught. I'm going to find this dog gone tape, but when Oscar fought Patrice Brooks, I think it was for the US Amateur World Championship in 90-91, I cornered him. We fought up in I think Colorado Springs…but anyway, he fought Patrice Brooks, who was a southpaw kid on the US team with Oscar, and he beat that kid. I have that painting in my house because it meant so much to me. It was one of the hardest things for Oscar to do is fight a southpaw. Then, as a pro, I remember him fighting Hector Camacho and he looked pretty decent doing it. And then he went awhile without fighting a southpaw and then he takes on Manny and I still think that Oscar could have beat him. I told my wife, "After the 1st round, I'm going to be able to tell you who's really going to win this fight." After the 1st round, I told her, "Oscar better come with a big punch and land one because he's not going to beat this kid." What angered me so much and what bothered me so much was his feet were so goofed up, he didn't even know how to open up his left foot. His jab wasn't …let's forget about his hands right now. I'm just talking about his feet. With all of that knowledge that he had up there at that camp, who taught him what? He was so turned and his feet were so cockeyed, he was trying to punch on the side of himself. This is stuff that you see an amateur kid doing. It bothered me because Oscar is a future Hall of Fame kid, the Golden Boy, almost a billionaire and 10 world championships and he didn't go fight a fight.

The weight differential was crazy. I put my guys on a lot of buffalo meat. The weight differential should have been a little higher, even if not by much, it should have been a little higher. That angered me as well because Oscar is smarter than that. I would train the kid for free to fight a rematch or to fight a southpaw just to prove that if he's taught how to fight a southpaw, he would look 10 times better. I don't take anything from Pacquiao. He's one of the pound-for-pound greatest fighters in the world today, but that fight shouldn't have been like it was. He completely shut him out.

PC: Yeah, I couldn't find a round to give to De La Hoya.

JI: I couldn't give him a half a round. It made me sad and I felt awful. He needed to open up his foot, jab with his left, take a step back and make him come to you. That way, he could use his uppercut. He didn't throw any uppercuts in the fight. When you fight southpaws, you don't let them dictate you; you have to dictate them. You have to make them feel like they are the ones who are the oddballs; not you. His front foot was flat and I told you he had to stand tall and he didn't. His back foot started dragging. He started stooping down and instead of being 5'10, he became 5'7. He should've been throwing his jab and moving left, step over and throw a right. I would've had him working on his right hand and using his speed. He really could have had Pacquiao guessing. There was one time where he had Pacquiao against the ropes and Freddie wanted him off of the ropes because Oscar was firing off some body shots, but that's the thing, he let Pacquiao keep him in the middle of the ring. It was great work by Pacquiao. Nacho basically told Oscar to quit. I would've been telling him he better get up off of his ass and fight before that guy takes his heart away. My wife asked me would I had stopped it and I told her, "No!" I would've did my all to motivate him and kept my eye on him in that round and if he was getting battered, beat up and would have been defenseless, I would've threw in the towel. That's me though as his coach. That's not him saying, "no more." What he did was Roberto Duran all over.

PC: I didn't understand Oscar never attempting to tie Pacquiao up and make it a rougher fight either.

JI: There were no drills. No one taught him these drills. They're called grab drills, where you take a guy and walk him down from the middle of the ring. There was a lot of savvy stuff and great old school stuff that I learned from the best in the world that he could've been doing. I thought that's what Dundee was brought in for. He could've hired me. Every time Oscar's lead foot was by Pacquiao's nuts, he would just step back and reset. My heart wanted him to win and I thought he would have the savvy and I thought Dundee and those guys would give him the savvy to win that fight.

PC: I think Freddie Roach did a helluva job getting inside of De La Hoya's head.

JI: Yeah, that's his job. When I was sitting there watching all of the stuff Roach was doing, I told some guys that I was watching the fight with, "If I would have trained Wanderlei Silva against Rampage, I would have used all of that savvy stuff." That's the type of things you do to help your kid win. If they would have brought me in like as an advisor, I would have used some of the same tricks Freddie Roach was using. I learned from the same guy Freddie learned from, Eddie Futch. Eddie Futch was one of my mentors as well. I understand where Freddie was coming from and I don't think it was personal. It might have been, but for me, it's part of your job and what you have to do. I feel…and I don't care what the world says, but I feel I have the formula that can make Wanderlei Silva beat Rampage easy; easy! And I also have the formula where I think Rampage can beat Wanderlei Silva easy and I've always said that. I don't care how many times Wanderlei beat Rampage and how he beat him, I just know this and I told people because they were telling me Wanderlei was asking for me. I ain't believing nothing until I get the phone call from him. Otherwise, it's just a big rumor to me. I'm not trying to get off of that, I'm just saying, it's a similar situation of knowing both parties and knowing their weaknesses. That's what Freddie did. He just did his job. The hand wrapping situation is a rule. You can send one of your guys over there to watch the other guy wrap and he did the right thing. Here is the thing about MMA, guys like me, with the knowledge and me being around for so long in the fight game, they think you're a troublemaker. They don't look at you like you're the best and concerned for your fighter. They look at you as a troublemaker. No, it's in the rules so for you to question things like that is doing your job.

PC: Something like that isn't as open in MMA as it is in boxing?

JI: No! I do it, but it's not looked at in the same light. This is a world title fight and the champion goes in second. I don't care if you're…when Rampage fought Forrest Griffin, they wanted him to walk out first. I was like, "He ain't walking out first; are you crazy?" He was the champion of the world. He was going out second. They thought I was causing trouble. I don't care if they thought I was causing trouble; he ain't walking out first.

PC: What did you think about Brock Lesnar's victory over Randy Couture?

JI: I thought Randy…first of all, I think it's a shame for the sport to have such a public figure to have to sell tickets and we look at it as a sport. Like any other fighter…the Association of Boxing Commission and any promoter of MMA knows a guy with 4 fights shouldn't be fighting for a world title. I'm not taking nothing from Brock Lesnar, but my kid Cheick Kongo was supposed to fight Brock Lesnar and Kongo was injured and Joe Silva told me, "Hey we need him." I told him he was injured, but I flew him out to Connecticut to my specialist doctor, who is also Shaquille O' Neal's doctor. He evaluated him for 3 or 4 days and said, "This kid can't fight." He had separations in his shoulder and I told Kongo that he couldn't fight a guy walking around at 310. He's a big guy, but this guy is going to fight at 270. Kongo fights at 230 so he had to be at 100%. I think Kongo had a better chance, matchup and style-wise, than Randy did against Lesnar because of his long legs, arms, kicks and all of that. I wanted Randy in my heart to win. I think he had the savvy to win, but father time...we're talking about age vs. youth, the strength factor and all of that. I still wish Randy would have won, but should that fight have even gone off? Honestly, as a sport, no! A guy should have 10 or more fights at least as an amateur and there is no amateur. I'm the founder of amateur…well, that will be heard more next year. They should have more than 10 fights before they even challenge for a world title. There are other guys that have paid their dues in the sport that are sitting there waiting for that world title shot and yet, they're on the backburner.

PC: It kind of puzzles me that Frank Mir beat Lesnar and yet he has to go coach on TUF just to get a shot at the interim title while the guy he beat fights for the linear title.

JI: Exactly! Interim title. And that's the other thing. And that's why I look at it sometimes and say, "Is this truly a sport?" Because when you give an interim title, it is for the #1 position and then the champion or the two #1 guys fight for the title. Then a guy comes back and because of legality and contractual problems, Randy Couture is still the champion and God bless him, but there is an interim champion. So to me, the interim champion and Randy Couture should have fought before Brock Lesnar fights to see who the true world champion is. That's just giving that to Brock Lesnar, but I still say that a guy…yeah, he's selling tickets and yeah, they want him to fight and yeah, there is no one in your heavyweight division, but that's your business. Don't take it out on the kids in your sport. That was just disappointing to a guy that loves the sport.

These kid's get paid nothing and in our case, we turned down a million dollar movie deal (The Wolverine) just to say, "Hey Dana, we appreciate you. We appreciate the UFC." And then you get Dana when all of this Rampage stuff comes out saying he's not a fan of me. He doesn't know how much I sacrificed and we sacrificed to make him happy. He fought 1 time and the year before, we fought 3 times. The UFC did comply with us on a lot of stuff realizing that Rampage was fighting outside of the country in the UFC. They made the adjustments as far as PPV money and bonuses that we get and that was cool. It was a headache for me and I made it happen, but then again, here is a kid that could be a national star, Rampage Jackson, and you have him fighting internationally to save your television deals and I'm just trying to get his life in control. He's making money and I'm trying to teach him how to save it and mentoring this guy and showing him all of the demons he should be looking out for and they were just throwing stuff at us as fast as we could blink. Everyone has their favorites and I don't think Rampage is one of their favorites, but I really appreciate being a part of MMA and boxing of course, but I just really hope it keeps on improving. The promoters have to really realize that if they don't have the fighters, guess what? You ain't got a show. I'm going to continue to show my heart and who I am.

MUCH MORE TO COME FROM IBARRA IN PART 2 OF THIS EXCLUSIVE INTERVIEW...
[ Follow Percy Crawford on Twitter @MrLouis1ana ]