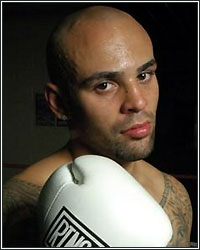 Another tough fight against a highly regarded opponent, another disputed decision and disappointing loss. This has become a recurring theme in the professional career of Luis Collazo. The former WBA welterweight champion was determined to regain a world belt Saturday night in Biloxi, Mississippi, where he faced current WBC titleholder Andre Berto. After a back-and-forth affair, Collazo found himself on the short end of a unanimous decision.

The officials scored the fight 116-111, 114-113 and 114-113. Many onlookers, however, favored Collazo, who came out ahead on the FightHype.com card 115-112.

Though a case can be made that Collazo deserved the decision, he did not focus much on the result. What he took issue with most was the card handed in by Judge Bill Clancy. "One judge had it 116-111," Collazo said. "There is no way in hell it was that wide. It should've been 114-113 all around."

Berto agreed that the action-filled fight was tightly contested and could have gone either way. Afterward, he heaped praise on his opponent. "It was a close call," said Berto, who improved to 24-0-0 with 19 knockouts. "Luis Collazo is an animal. We had a terrific fight to begin 2009."

Berto's words were more a result of relief than excitement. The tension in his corner was evident when the final bell sounded. Before the cards were read, several Team Berto members seemed to be preparing for the worst. Berto's father, Dieuseul, climbed into the ring and immediately began offering his son words of encouragement.

As it turned out, those words were not necessary. Berto would survive his toughest test as a pro.

For Collazo, it was yet another disputed setback. Most ringside observers said he deserved the decision against Ricky Hatton in May 2006. Hatton, who floored him in the first round of that bout, won by unanimous decision.

Collazo would get a shot at the interim WBC title in February 2007 against Shane Mosley, but his bid fell short. Mosley outclassed Collazo en route to a unanimous decision.

After that loss, Collazo's career went into limbo -- landing another title shot seemed like a long shot. He bounced back, however, with two impressive victories to earn the match against Berto.

As impressive as those wins were -- a lopsided unanimous decision over Edvan Dos Santos Barros in January 2008 and an eighth-round TKO of Russell Jordan in September -- the fight with Berto was viewed by many boxing insiders to be Collazo's final title shot in the crowded 147-pound division. No one knew this better than Collazo.

He needed to win this bout; his future as a top-level fighter depended on it. Collazo entered the ring with a sense of urgency and it showed in the first round. Fighting out of a southpaw stance, Collazo confused Berto with various angles and peppered him with hard right jabs. He tossed in several hard lefts, one which sent the champion tumbling toward the ropes.

Berto would rebound in the second round, but he would later spend much of the bout fighting on the inside. This diminished his speed advantage and gave Collazo the opportunity, he otherwise would not have had, to land his shots. The infighting favored Collazo and forced Berto to hold on numerous occasions. Berto even had a point deducted by referee Keith Hughes.

Realizing his title might be slipping away, Berto came out strong in the 12th round. He landed several hard punches that rocked the wilting New Yorker. That final push would allow Berto to remain undefeated and, more important, retain his title belt.

"I knew I had to win the last round," Berto said. "My (trainer) was telling me to bite down and get it done."

Though the outcome wasn't what Collazo (29-4-0) wanted, his effort might pay off. The action was nonstop throughout, which had the fans on their feet during every round.

When it was over, cries for a rematch traveled all around Beau Rivage Resort & Casino. Those cries did not go unnoticed.

"It was a tremendous fight," Berto's New York-based promoter Lou DiBella told FightHype.com. "There will be a rematch. I don't know if it will be Berto's next fight, but I can see it happening in 2009.

"Neither one of these guys is fighting for the same money they made in this fight. HBO has to put up the money for a rematch to happen.

"This was a classic fight; the best welterweight match in years. I don't think there is anyone who saw this fight who wouldn't want to see it happen again."

Count Collazo among that group. He began campaigning for a rematch soon after the scorecards were announced.

"(Berto's) a tough fighter ... we left it all in the ring," Collazo said. "He came out with the win and hopefully we can do it again."


---
Franklin McNeil covers boxing and mixed martial arts for The Star-Ledger in Newark, N.J., FightHype.com and ESPN.com.