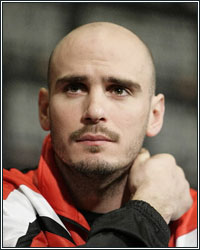 Three months have passed since Bernard Hopkins took Kelly Pavlik to school in Atlantic City. It was a crash course on how a boxer can dismantle a puncher. Hopkins used solid footwork and constant head movement to stay out of harm's way. And when he spotted an opening in Pavilk's defense, which was often, Hopkins delivered vicious right jabs and left hooks.

After three rounds were in the books, it was clear that Pavlik was out of his league. Hopkins, who turned 44 last Thursday, possessed too much knowledge.

Despite all the skills and know-how Hopkins dispensed Oct. 18th at Boardwalk Hall, none was absorbed by the 26-year-old Pavlik. The WBC/WBO middleweight champion admits Hopkins was the better man that night, but not because he is the superior fighter.

"That wasn't me that fight," Pavlik said during a press conference last Tuesday in New York to promote his Feb. 21st title defense against Marco Antonio Rubio. "If it was me fighting that fight at 100 percent and I had got whipped or lost, I would have said, 'I need to go back to the drawing board and work on this, work on that.'

"But there is nothing I could learn from that (fight) ... I saw things in that ring I wanted to do, but I just couldn't get off ... After the second round, I knew I had to go out there and try to finish hard -- show heart."

Pavlik (34-1-0, 30 knockouts) showed lots of heart that night. According to the champ, he entered the ring having battled bursitis and tendinitis in his left elbow. The injury occurred during training, a few of weeks before the fight. That wasn't the only problem plaguing Pavlik. He came down with bronchitis four days before facing Hopkins.

"I felt very lethargic," he said.

Injury and illness weren't the only reasons Pavlik was thoroughly outclassed. Hopkins may have had a wealth more experience, he may have possessed superior footwook and unmatched defensive skills, but Pavlik was prepared to deal with those things. The biggest edge for Hopkins was size. Pavlik's handlers maintain Hopkins was just too big.

"First of all, we shouldn't be fighting at 180 pounds," Pavlik's trainer Jack Loew said. "Bernard was 187 pounds that night. Kelly is a legitimate middleweight. We weighed in on the scale at 169-169 1/2 and after 28 hours of rehydrating, we were 171 1/2 the night of the fight.

"But we're not making any excuses. We chose to go on with the fight and we got beat. That's it."

Pavlik and his handlers did take something of value from the loss to Hopkins: they realize boxing must be reincorporated into their arsenal. Since 2006, Pavlik has pounded his way through the opposition. He compiled a 7-1 record the past three years. Of his seven victims during that span, only Jermain Taylor went the distance with him.

Pavlik doesn't plan to abandon his powerful right hand when he faces Rubio at the Chevrolet Centre in Youngstown, Ohio, but he and Loew want to give the challenger more to think about. Loew wants Pavlik to outbox Rubio (43-4-1, 38 KOs).

"We're going to box a little bit more," Loew said. "Rubio has trouble with angles. We definitely want to get back on the boxing trail."

Pavlik isn't taking anything for granted. Though he is still regarded as the world's best middleweight, Pavlik is rebuilding his reputation. He regards defeating Rubio as the first step in that process. The Youngstown, Ohio native wants his fans to walk away impressed. He is eager to achieve this goal against a tough opponent.

"Rubio is a dangerous fighter," Pavlik said. "He has a lot of power and he's very hungry. This is his last opportunity at a world title.

"He is coming in here with everything that he has, but at the same time, I am fighting in my hometown and I am coming off a loss -- my first loss. We both have a lot at stake.

"I still feel like a champ, but there is still a lot of proving to do. The important thing about this fight is not going in and winning a decision in a boring fight. I feel as if I have to go in there and shine. I have to win convincingly. I have to definitely put on a show that night."

NOTE: Pavlik-Rubio will be available on Top Rank, Inc., pay-per-view (9 p.m. ET) for $44.95. ... The split broadcast will also feature a welterweight title bout between former WBA champion Miguel Cotto (32-1-0, 26 KOs) and Michael Jennings (34-1-0, 16 KOs). They will fight for the vacant WBO crown in New York at Madison Square Garden. ... Loew said he contemplated stopping the Pavlik-Hopkins fight. "After the ninth or tenth round ... he took some pretty good shots at one point in the round and Bernard was taunting him. One thing I didn't want is for him to get embarrassed," Loew said. "I was really thinking about stopping it." ... Cotto would like to fight three times this year and Manny Pacquiao is an opponent he'd like to take on. "If Manny Pacquiao wants to stay at 147 and face one of the biggest names in the division, I'm available," Cotto said. He would even agree to face Pacquiao at a catch-weight -- maybe 145 pounds. ... Tickets ($500, $300, $200, $100 and $50) for Pavlik-Rubio and Cotto-Jennings are available at the Madison Square Garden and Chevrolet Centre box offices. Fans can also buy tickets at www.ticketmaster.com.


---
Franklin McNeil covers boxing and mixed martial arts for The Star-Ledger in Newark, N.J., FightHype.com and ESPN.com.