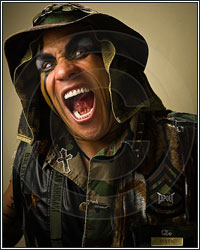 According to myFOXla.com, Newport Beach police have confirmed that one person is dead and another is injured after a speeding bright red Ferrari crashed into a light pole a split in half shortly before 1AM on Wednesday. Although complete details have yet to be released, the deceased is believed to be Charles Lewis Jr., better known as Mask, TapouT Crew member and part owner of the multi-million dollar company.

According to reports, the Ferrari and a Porsche were traveling at a high rate of speed along southbound Jamboree Road near Camelback Street when the two cars collided. The Ferrari lost control, hit a curb and crashed into a light pole, which toppled onto the car, crushing the front portion. The driver of the Porsche, Jeffrey Kirby, was taken into custody after officers spotted his car on Bison Avenue just west of Jamboree Road moments later. Kirby is being held on $1 million bail while facing gross vehicular manslaughter charges.

A woman in the Ferrari was ejected during the crash. She was hospitalized and is in stable condition. The man in the Ferrari was declared dead at the scene. His identity is not yet known. At the crash site, Newport Beach police Lt. Steven Shulman stated, "the coroner will identify that person, notify the family, and hopefully the passenger that we believe was in the vehicle will survive the injuries and we will find out a little bit more at that point."

The car appeared to be a Ferrari 599 GTB Fiorano, an all-aluminum V12 with a top speed of 205 miles per hour and a price tag of about $300,000.

Although several sources within the MMA community have already confirmed the deceased to be Charles Lewis, no matter who it turns out to be, our thoughts and prayers go out to their entire family.

UPDATE

It has been cofirmed that the deceased was indeed Charles Lewis. The following message can be foundon the home page of the TapouT website:

DEAREST FRIENDS AND FAMILY
It is with heavy hearts and great sadness that we must regretfully confirm the passing of our beloved friend, brother and co-founder Charles "Mask" Lewis following a car accident that occurred last night. We are currently in the process of setting up a memorial service in his honor and will release more details as they become available.

Many thanks to all for the outpouring of blessings and well-wishes during this incredibly difficult time.

You can leave a comment for a tribute page that will be put together by TapouT.