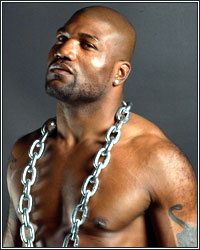 "I did the UFC a favor and fought Jardine because Rashad wouldn't fight me; that's why I fought Jardine, because I was supposed to fight Rashad after the fight with Wanderlei… Since Rashad got a big mouth and got in my face, you already know who I want to fight," stated former UFC light heavyweight champion Quinton "Rampage" Jackson as he talked about his eagerness to return to the Octagon in hopes of facing current light heavyweight champion Rashad Evans. Check what else he had to say about Evans, Lyoto Machida, Wanderlei Silva, Dan Henderson and much more.

PC: It's been awhile since I spoke with you so congratulations on the win over Jardine!

RJ: Thanks bra!

PC: What did you think of your performance and the way the fight played out?

RJ: I think I could have done better, but I was dealing with a whole bunch of stuff and I'm just happy I won.

PC: You said, after the fight, you were overtrained and it was a quick turnaround from the Wanderlei fight. Was that the main reason you didn't want to turn right back around and fight Rashad in May?

RJ: Yeah, because I was already overtrained for the Jardine fight and then they wanted me to turn around and fight again in May. There was no way I could do that. I was already overtrained. I peaked 3 weeks before the Jardine fight. I did the UFC a favor and fought Jardine because Rashad wouldn't fight me; that's why I fought Jardine, because I was supposed to fight Rashad after the fight with Wanderlei. And then I got to thinking about it and plus I had a hurt jaw. I fought my last 2 fights with a hurt jaw.

PC: I've read where people think you may have had some motivational problems getting up for Jardine after knocking Wanderlei out. Was that the case?

RJ: Nah, 'cause I make my money fighting in the Octagon so it ain't hard to do nothing.

PC: Were you surprised by the way Rashad got in you face after your win against Keith?

RJ: Yeah, because nobody told me nothing.

PC: At the time, you could tell by some of your comments that you didn't know the fight was moved up because you told Rashad you would be well rested.

RJ: Nah, I didn't know nothing about that.

PC: Do you think it's a good look for Wanderlei to move to 185 at this stage in his career?

RJ: Well…Wanderlei looks like he can make 85 so it might be a good move for him. He will be stronger, he hits hard and he's fast, so it might be a good move for him.

PC: You've fought Dan Henderson and you've coached on TUF. What advice would you give Bisping?

RJ: I just tell Bisping to train real hard and prepare for everything. Dan is very well-rounded. He's a good fighter.

PC: What was the toughest part about coaching on the show for you? I know you got up to your heaviest weight ever while doing it. Was it just not finding time to train?

RJ: Living in Vegas.

PC: That Vegas lifestyle and those Vegas nights got the best of you, huh?

RJ: Man, you get sucked up in it.

PC: Lyoto Machida vs. Rashad Evans, who do you think will win and who do you prefer to fight?

RJ: Since Rashad got a big mouth and got in my face, you already know who I want to fight. I'm thinking it might be a boring fight, but what do I know?

PC: So you think Rashad could pull it off?

RJ: He probably could, but um…if I fought Machida, it would be a boring fight so I just think it will be a boring fight.

PC: Why do you think that?

RJ: Just his [Machida] style!

PC: Damn, you've fought a lot of people. You also fought both Chuck Liddell and Shogun. Who do you like in that fight?

RJ: Well, Shogun really hasn't been showing me anything and Chuck has been off of his game a little bit so I'm excited to watch that one.

PC: Are you going out there or are you watching it at home?

RJ: I'm watching it at home.

PC: You've been on TMZ more than Paris Hilton these days. Is it a gift and a curse being Rampage Jackson right now?

RJ: You know what? I was asking myself that same question not too long ago, but I can't call God's gift a curse anymore. I don't consider it a curse. It's just sometimes you wish you wasn't in the limelight.

PC: It surprises me. Not because you're not a popular fighter…I guess it's just a testament to the growth of the sport, but it surprises me that a lot of those cats even recognize you.

RJ: Yeah! I'm surprised that a lot of people recognize me and it's weird. I got pulled over by the police the other day and thank God for the UFC because he just told me, "Slow down Rampage" when he saw my license. He said, "Slow down!" I was like, "Yes sir, yes sir!" I wasn't speeding or nothing. I was just trying to make the light and I know I made it. He was just messing with me, but he was cool.

PC: I know you were larger than life in Japan, but now that you're back in the States and the media here is a little different, is it tough to deal with that?

RJ: It's kind of tough when you live here and you go to a restaurant and you can't eat with your kids and stuff. Sometimes you just want to be with your kids, you know what I'm saying?

PC: You keep letting Tiki nutcheck you at these events and you won't have to worry about kids anymore.

RJ: (Laughing) I know, huh? That's the plan so keep on hitting me in the nuts. I got too many [kids] as it is.

PC: I heard a radio interview you did after the Wanderlei fight and that cat Ariel Helwani was grilling you about some stuff. Any background on that? What was that about?

RJ: I don't even know man. People be hating. People be hating on me, you know what I'm saying?

PC: Knowing if he saw you in person, he wouldn't be talking gangsta like that. He would probably be trying to get an autograph or a picture.

RJ: You already know. He just hating. There is always going to be haters. You just don't show them any attention. Hater's get no attention from me. Just let them do their job. If ain't nobody hating on you, then you ain't doing nothing.

PC: When can we expect Rampage back in the cage?

RJ: I don't know; it's up to the UFC, but I'll be ready in August or something like that.

PC: People look at the actual fight sometimes and wonder why if the fight went well and a fighter didn't suffer much damage, why won't they turn right back around and fight again, but the training camps are grueling and that's the hard part, you know?

RJ: Quick turnaround fights are okay as long as your body is okay. Like for the Jardine fight, I had some injuries that happened in training and for the Wanderlei fight, I hurt my jaw the week before that fight. I helped Josh Barnett train for his fight and I hurt my jaw a little bit and then it got hurt in the Wanderlei fight right before I knocked him out and then it got messed up again in the Jardine fight because I got hit with some good shots. So it's messed up. I gotta eat with a retainer now. I can't be going getting punched in the face and stuff like that until my jaw heals up a little bit more. That's how you wear yourself out over the years. I don't want my jaw to be just falling open. What if I'm going on a date with this hot chick and my jaw just falls open and I gotta use a sip cup just because I wanted to take a fight too soon? They don't know what I'm going through in training so they need to wise up and if they train then, they know what I'm saying.

PC: Is it tougher now that you conduct your camps in the UK as opposed to the States?

RJ: Yeah, it's tougher on my family and stuff like that, but it's tougher because I have harder guys to train with.

PC: You've been around this sport for a long time and have fought some of the best in the division. Every time I see your age, I trip out. How much longer do you want to fight and who was your toughest fight to date?

RJ: I plan on fighting for like five more years and then going into acting full time. I think Dan Henderson was my toughest fight because it was hard for me to train for him and in the fight, he got me down on the ground a few times and he ducks his head and I was hitting him on the top of his head, so every time I punched him, it hurt me.

PC: Are you pursuing any movie roles right now?

RJ: Well, me and John Cena's been talking about some stuff right now so we'll see how everything plays out.

PC: Best of luck to you with everything bro. It's always good to catch up with you. Is there anything you want to say in closing?

RJ: I just want to thank all of my fans that support me and thank my sponsors: Cage Fighter, Boost Mobile, my new sponsors 702 Motors, they be hooking up my whips, you know what I'm saying, and Unbreakable Mouthpieces. If it wasn't for Unbreakable Mouthpieces, my jaw would probably be a lot worse than what it is. I had my mouth wide open when my trainer hit me in the mouth and if I didn't have that Unbreakable Mouthpiece, my jaw probably would have been broke so I really want to thank them. All of my sponsors take good care of me so I just want to thank them.
[ Follow Percy Crawford on Twitter @MrFighthype ]