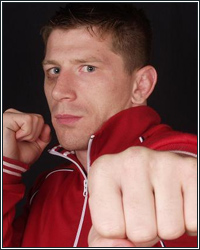 "I never want to look past Urijah, so the way I like to put it is the winner of Urijah and I will probably end up fighting Aldo or a super-fight with Miguel or maybe a super-fight with one of the UFC fighters at 55. Those are the type of fights that I would like to have and I'm sure Urijah would like to have also," stated WEC featherweight champion Mike Brown as he talked about his upcoming rematch with Urijah Faber, his future plans and much more. Check it out!

PC: How has camp been for your rematch with Urijah Faber on June 7th?

MB: Training is going well man. I'm…fuck man, I'm in good shape and ready to do this thing!

PC: Sometimes when you beat a guy, it's tough to get motivated for them a second time. Are you running into that problem?

MB: No, I'm not like that. I get nervous for every fight. It doesn't matter who it is or if I beat him or if they have a record of 0-7, I get so nervous. I train hard all of the time.

PC: I remember the first time I ever interviewed you was before the Curran fight and you were telling me how no one expected much out of you because you were so unknown. Now I've seen some pound-for-pound lists with you on it. How have you been handling the role reversal?

MB: It's coming around, you know? It's making me start to believe in myself a little more. I always knew what I was capable of, but I think my teammates had more belief in me than I did. It's all starting to happen now.

PC: You fought Urijah the first time in your neck of the woods in Florida. Now you have to travel to his neck of the woods. You just fought Garcia in Texas, so are you used to being in hostile environments?

MB: I know, right? They send me to their hometowns. It doesn't matter once you're fighting your fight. The only time it's a little scary is when you've got a close decision. You gotta worry about the judges if it's close because they get swayed by the audience sometimes, but I don't see it being a problem in a 5-round fight.

PC: You've been training for 5-round fights for three fights now. How is your cardio and conditioning for this fight?

MB: I'm in great shape. I'm training hard man. I used to think 3 rounds were tough, but now I can breeze through them. When you train for 5, it's like 3 is nothing.

PC: You said you're just getting comfortable in your abilities, but you dominated two guys that I had never seen dominated before in Garcia and Faber. Were you even a little surprised by the way you handled both guys?

MB: I'm always happy to get out early like that. I know it can happen. I always thought when you fight good guys like that, you can expect a battle, but sometimes you get a little lucky and get to go home early. I thought, "Man, how come that never happens to me?" You see it all of the time where one guy blows the other guy out real quick. Sometimes it just happens that way, but you can't guarantee that. I'm like, "Why the fuck that never happens to me?" And then it finally happens where I fight a couple of tough guys and I didn't have to work so hard to get it done. It's about time! We don't get paid by the hour.

PC: A second win over Faber and it will definitely get people asking what's next for you. I know you're not overlooking Urijah, but what would you like to do if you're successful next month?

MB: I never want to look past Urijah, so the way I like to put it is the winner of Urijah and I will probably end up fighting Aldo or a super-fight with Miguel or maybe a super-fight with one of the UFC fighters at 55. Those are the type of fights that I would like to have and I'm sure Urijah would like to have also.

PC: I was going to ask if the goal was eventually competing in the UFC at 155.

MB: Yeah, I would like to do that. I just want big fights. I just want the fans to care about what's going on. I want to have fights that are worthy of interest. Whatever the fans want to see is what I want to do.

PC: You're a pretty big 145-pounder so the move to 55 shouldn't be too tough for you, right?

MB: No! I walk around pretty high. I would still have to cut weight to make 55. I can get up to 170 pretty easily if I wanted to, you know? That's not hard for me.

PC: What are you expecting Urijah to try to do differently to change the outcome of the first fight?

MB: I expect him to maybe try to take me down, but he's not going to rush it. He's a well-rounded fighter man and he's tough. He's going to try to fight a smart fight and take me down if he gets the chance. I'm sure he will use some of his crazy kicks. He kicks hard and out of nowhere. He doesn't really set it up real well. He just kicks hard and goes for a shot. I'm expecting a little bit of striking and then for him to try and take me down.

PC: You showed the entire package against Garcia. Are you prepared for any and everything against Faber?

MB: Yeah and he's a really good guy, but I've seen it all. I see it all everyday.

PC: I always have to bring up ATT.

MB: (Cutting in) Without them, there is no way I would be where I'm at.

PC: I'm sure the fights come easy because you're training with top notch guys everyday.

MB: You don't even realize it until you get into a camp like this. What happens is you have so many holes in your game that you might not be aware of. Every day they find those holes. Maybe you're getting tapped or punched in the head or whatever, but that happens a few times and then without even thinking about it, you're going to make changes in your game to not let that happen anymore when you get hit with a couple of triangles or armbars or whatever it might be or some shit you never even seen before maybe. You make subtle changes and you may not really be learning new moves, but you're just tightening up your game and closing down those holes other people are finding, you know? I used to rarely get tapped out and when I first came down here, I was getting tapped out like ten times in a day. I thought my Jiu Jitsu was really good. A month goes by and it happens less and less. A year goes by and it's not happening anymore.

PC: As always, it's good to catch up with you my man. Good luck in June. Is there anything you want to say in closing?

MB: I just want to thank TapouT, Champion Nutrition, everyone with American Top Team and Bushmasters Firearms. They're hooking me up with some bad ass firearms so now I got something to do on Sundays; go shoot stuff up.

PC: You can kick ass man; you don't need any firearms.

MB: Yeah man. Don't come try and break in my house now. I got a bunch of cool shit!
[ Follow Percy Crawford on Twitter @MrFighthype ]