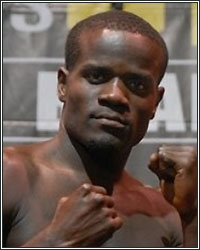 Although no official decision has been made regarding Manny Pacquiao's next opponent, it's been widely speculated that WBO welterweight champion Miguel Cotto is the leading candidate to land the assignment. On Saturday night, former welterweight champion Joshua Clottey will try to make Pacquiao's decision a little easier by removing one of the potential candidates from his list of options. Clottey hopes to play the part of spoiler when he steps into the ring with Cotto, as a victory for the Ghanaian-born fighter would all but kill a potential clash between the Filipino and Puerto Rican national heroes. The question is if Clottey is able to pull off the upset, will it gain him entry into the Pacquiao Sweepstakes?

"If he wins, then he becomes a viable opponent, either for Pacquiao, or for Mosley. I mean, there's no monkey wrench, he's not an outsider. He's a guy in there with a helluva shot to win," promoter Bob Arum would tell Steve Kim of Maxboxing.com. That certainly sounds fair, but chances are, not even a highlight reel knockout of the Puerto Rican superstar will be enough to get Clottey's name onto Pacquiao's short list of options. In fact, it would probably do just the opposite, landing him a spot on the do-not-call list.

One would think that all the factors that make Miguel Cotto an attractive option are also aspects that would make Clottey a viable option if he wins on Saturday. After all, all three fighters are promoted by Top Rank, making a clash between any of them relatively easy to finalize. Furthermore, Clottey has never made a seven-figure purse before, at least not to my knowledge, so negotiations would virtually be non-existent. Pacquiao could demand a 90/10 split of the purse and Clottey would probably still be guaranteed to make a career high payday. Fighting at a catchweight should also be no problem. Although Clottey is considered to be one of the bigger welterweights, he has fought as low as 145 lbs. just three short years ago, unlike Shane Mosley, who hasn't fought below 146 lbs. since 1999.

If Miguel Cotto does lose on Saturday night, honestly, on paper, Joshua Clottey is the next best opponent for Pacquiao. For a promotional company looking to keep the money in-house, it's a fight that makes sense. The reason why Clottey won't be an option for Pacquiao, however, is the exact same reason why he won't be an option for Floyd Mayweather Jr. and Shane Mosley. He just simply isn't a big enough name to get any of those fighters the type of money they're looking. As Money Mayweather would say, he's simply not a draw. While Clottey may be a challenge for any man who steps in the ring with him, he just doesn't bring the fan base that warrants the type of eight-figure salary that both Pacquiao and Mayweather have grown accustomed to in their last couple of fights.

So if he does pull out the victory on Saturday night, Clottey, as well as his fans, should temper their expectations for big fights to come their way. There will be no Mayweather, Mosley or Pacquiao Sweepstakes in his future. There may be a Margarito rematch down the line, but definitely none of them. And although a Clottey victory will surely ruin the luster of a mega-fight that some people are already looking forward to, don't be surprised if it doesn't totally eliminate Miguel Cotto as an option for Pacquiao's return in October. After all, it wouldn't be the first time that Bob Arum has gone through with a pay-per-view clash where one fighter was coming off a loss.
[ Follow Ben Thompson on Twitter @fighthype ]