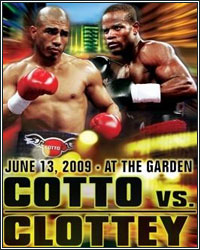 This weekend, Puerto Rican sensation and WBO welterweight champion Miguel Cotto returns to Madison Square Garden on the eve of the Puerto Rican Day Parade to defend his title against former champion Joshua Clottey. With the future of two divisions possibly hinging on the outcome of this fight, don't miss all the action on Saturday, June 13th televised live on HBO World Championship Boxing at 10:35PM ET/7:35 PM PT.

WHAT DOES IT MEAN...

The Summer boxing season kicks off with a huge fight at welterweight between…get this…two welterweights. Miguel Cotto and Joshua Clottey may not be fighting for welterweight supremacy, but they are certainly fighting to keep their name in the discussion. Back in January, Shane Mosley did his part to put his name back in the conversation by utterly dismantling the heavily favored Antonio Margarito. Since that time, Andre Berto has failed to impress, the aforementioned Margarito had his license suspended and the previous division king, Floyd Mayweather Jr., has ended his short retirement to fight a lightweight. So this fight matters, in a big way, not just for the fighters and their future, but also to help create some clarity in a very deep and talented division.

For Miguel Cotto, this fight can be considered Phase II of his comeback since losing a bloody war with Antonio Margarito last July. In February, Cotto returned against a totally overmatched Michael Jennings. Early on, you could sense the uncertainty in Cotto as he tried to get a feel, but he got comfortable after a round or so and took care of business. He will need to be comfortable from the opening bell in this one because Clottey is not a guy who takes much time to warm up. Should Cotto win, he stands to be the beneficiary of a potential standoff between Floyd Mayweather and Bob Arum. If a Pacquiao–Mayweather fight fails to come to fruition, Cotto puts himself in the prime position to get a shot at The Pacman should he come out with a win on Saturday. On the flipside, if a Pacquiao–Mayweather fight is made, Cotto still has a big fight staring him in the face against the guy it seems nobody at welterweight wants to fight right now, Shane Mosley. If Cotto were to lose, there is a good chance he would still end up in the same position as it relates to a Mosley fight. Sugar Shane wants payback and whether Cotto wins or loses, it may be the biggest fight available to him. Alternatively, there is always the Antonio Margarito rematch as well. Margarito has Arum's lawyers on the case 24x7 and there seems to be growing confidence on his side that the suspension of his license will be brought to an end allowing him to fight. While Cotto may not have an interest in the fight at first, his pride may get in the way, forcing him to try and get even.

Joshua Clottey has long been avoided by most of the top dogs in the division. Outside of Antonio Margarito and Zab Judah, Clottey has struggled to get the big name welterweights in the ring, and for good reason; the risk is huge and the reward is not. In his entire 37-fight pro career, he has never been soundly beaten. His 2006 loss against Margarito was hotly contested and more than a few thought Clottey deserved at least a draw. The Hitter was in control until he claimed he had suffered a hand injury. From that point on, Margarito's activity took over. Seven years earlier, against Carlos Baldomir, Clottey was again in full control until the 10th round when he had two points deducted for headbutts and was disqualified a round later for the same infraction. Both fights were official losses, but neither fight left fans believing he didn't belong near the top of the division. A win over Cotto will be huge for Clottey, though it may not help him get the big fights. Recently, the only man, outside of Cotto, willing to get in the ring with The Hitter has been Paul Williams. A Clottey–Williams fight was rumored to be close over the past 12 months, but never came to fruition. There can be no doubt that The Punisher would relish the opportunity to beat one of the champs at 147 and odds are Clottey will be perfectly content to give him that opportunity. If the fight is close and entertaining, there is always the potential for a rematch with the fan-favorite Cotto, but outside of that, Clottey's options will remain limited. Should Clottey be unable to pull off the small upset, he will have a difficult time landing another big fight. Chances are that securing the biggest fight available for him may hinge upon the California State Athletic Commissions decision on Antonio Margarito's license. Clottey has said he wants a rematch with The Tijuana Tornado, regardless of what is going on with him right now, and Margarito may not have any other option himself.

WHEN THE BELL RINGS...

This really is a very interesting fight. Both fighters present issues for their opponent and at the same time have vulnerabilities that their opponent can exploit. You have to give a lot of credit to Miguel Cotto for wanting this fight and for his willingness to fight the top men at welterweight. Cotto does not cherry pick. He fights who is there regardless of what they bring to the table and does so without telling the whole world how great of a ledger he is putting together. If you don't want to fight Cotto, he will move on to the next challenge.

When the opening bell rings, don't expect fireworks, but do expect a fast start. Cotto is well aware of Clottey's propensity to fade late, just as Clottey is aware of the potential effect Cotto's last grueling fight had on him. Cotto will use his feet to get in and out, but try not to burn too much energy in the process. Clottey will walk Cotto down behind a high guard in an effort to start wearing him down immediately.

The jab will be a key punch for Cotto as he uses it to shorten the distance before digging the left hook downstairs and then again to create distance as he gets out of harm's way. Clottey comes right to you with his hands high, making his ribcage a very inviting target. Get downstairs with some consistency and maybe Cotto can find a way to take some steam out of Clottey by the middle rounds instead of the late rounds.

The same thing goes for Clottey. The jab will be key to his ability to do what he wants. If Clottey is unable to get the jab going, he will also be unable to walk Cotto down consistently to begin taking the fight out of him. Clottey will need to use the jab to keep Cotto on the end of his shots while also deterring him from sliding in to get to his body. Once the jab starts working, the straight right will come behind it, as will an occasional left hook, both upstairs and downstairs. Clottey wants to cause some flashbacks for Cotto and he doesn't want to wait until late in the fight. He is going to look to put the hometown fighter on notice that he will be dealing with pressure and physicality for the entire night.

Early on, the action should be fairly even with each man doing a bit of what they want in there, but at the same time, facing their fair share of return fire. Cotto will land some beautiful combinations upstairs while Clottey will nod and smile and continue pressing forward always making sure to put something on his opponent when he gets in range.

The middle rounds should tell the story here. Don't expect either man to surge late. Sustained back and forth action early on will set the table for some very intense moments that will lead up to the championship rounds. Little by little, expect to see Cotto in Clottey's range with more consistency, but remember, The Hitter is not a huge puncher. Instead, it is his physicality that will wear on the smaller man. Clottey's ability to weigh-in at 147 pounds, yet enter the ring as a full-fledged Super Middleweight will be very important. As Clottey edges closer and attempts to keep the fight at a comfortable range, Cotto will begin using his legs less and sit down on his shots to the body in order to stymie his oncoming foe. He didn't do it against Margarito because not only was he concerned with eating uppercuts, but he couldn't get his opponent's respect either. That won't be the case here. He will stand his ground with growing consistency.

As we enter the championship rounds, things will seem very close and the intensity will be evident. Cotto will have succeeded in slowing Clottey with his body work and Clottey will have succeeded in wearing on Cotto with his consistent pressure. With the fight apparently on the table, we can expect to see continued exchanges, but at a slower pace than the fight had been fought at to this point. Neither man will want to gas before the end of the 12th and both men will have done their share of damage; so while the pace may slow a bit, the intensity in Madison Square Garden will almost certainly rise as the Cotto fans look to cheer their man on in order to close the show.

THE CALL...

In looking at what the oddsmakers are offering, I can't help but wonder if they are putting more stock in the circumstances here than the actual fighters. The fight is in Cotto's second home on the eve of the Puerto Rican Day parade with a potential fight against Manny Pacquiao on the line. As a 3:1 underdog, I think Clottey is an absolute steal, especially when we consider the +700 payout for Clottey by decision. In fact, if this fight were not in New York, I would probably lean towards Clottey by decision. While The Hitter seems to be missing that killer instinct, he is extremely well schooled, big, strong, has good handspeed and has never been handled by anyone he has been in the ring with. But alas, the fight is in New York and my official call is Miguel Cotto by majority decision. I don't think this will be a robbery at all, but I also don't think we will walk away feeling Cotto won a clear decision. 115-113…maybe even a wider than necessary 116-112 both in favor of Cotto and one card even sounds right to me. Clottey will be disappointed, but in the end, his consistent pressure style with very few explosions will not help him. Expect a good intense battle where both men fight a hell of a fight in front of an electric crowd. With a packed house expected at the Garden, who says boxing is dying?