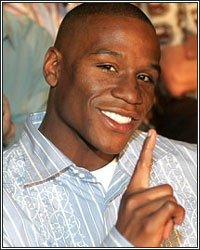 Perhaps the July 18 clash between Floyd Mayweather Jr. and Juan Manuel Marquez wasn't so highly anticipated after all. Sources close to the situation have informed us that although Mayweather may have suffered a rib injury during training, poor ticket sales were the major contributing factor in the decision to postpone the bout. "Ticket sales suck," an anonymous source revealed.

While no one is questioning the validity of Mayweather's injury, ticket sales were indeed moving much slower than anticipated. As late as Friday, fans could still purchase the limit of 10 tickets in the $300 price range, the second cheapest seats available. Given the fact that the bout was announced on May 2nd, just hours before Manny Pacquiao's clash with Ricky Hatton, it should come as no surprise that so many tickets were still available. With just 11 weeks separating the original announcement and the actual fight, there simply wasn't enough time for Golden Boy Promotions to properly promote the bout.

"The new date will depend on doctor's orders. Will it be a month later? Two months later? We don't know. He needs to heal," stated Golden Boy Promotions CEO Richard Schaefer. Although the fight has yet to be rescheduled, it's rumored that a likely date could be September 19, the weekend following Mexican Independence Day. Traditionally, it's a date that's always been reserved for fights involving Mexican boxers like Marco Antonio Barrera, Erik Morales, Oscar De La Hoya and Juan Manuel Marquez. The move would give Golden Boy Promotions much more time to promote the event and likely bolster ticket sales within the Mexican community.