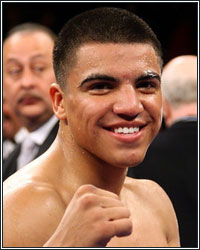 This Saturday, rising jr. welterweight contender "Vicious" Victor Ortiz (24-1-1, 19KOs) faces hard-hitting Marco Maidana (25-1, 24KOs) for the interim WBA jr. welterweight title. It will be the first time that the young star will headline a main event on HBO and he hopes to make a statement as he continues his quest to become the new face of boxing. With a number of their fighters either on their way out or having a hard time landing fights, Golden Boy Promotions is eager to create a new crossover star that will carry the company into the future.

"He really is a rising star of the sport. He has the million-dollar smile. He has the charisma. And he has, most importantly, the skills in the ring...HBO looks at him as one of the handful of fighters that can, and hopefully will, carry the sport in the coming years," Golden Boy CEO Richard Scheafer stated in a recent interview with Dan Rafael of ESPN.

With Oscar De La Hoya's recent retirement and stars like Bernard Hopkins, Shane Mosley and Ricky Hatton not far behind, the time may be sooner rather than later for Ortiz to carry the Golden Boy torch. Already ranked #3 by the WBA and #2 by the WBO, an impressive win over Maidana will surely put Ortiz on the fast track to a shot at any one of the current champions in the division, including Timothy Bradley, Juan Urango, Andreas Kotelnik and, dare I say it, Manny Pacquiao.

Ironically, the first 22 fights of Ortiz's career were with promoter Bob Arum. After filing for bankruptcy and getting his promotional contract with Top Rank voided by the court, Ortiz quickly signed with Golden Boy Promotions. He would later reveal that he felt Top Rank wasn't giving enough attention to his career. "I'm really happy to be under Oscar de la Hoya's and his team's guidance. I'm going to do everything it takes to become boxing's next big star and one day fill Oscar's big shoes," Ortiz stated upon his signing. Given that Shane Mosley, Bernard Hopkins and Winky Wright have yet to secure any new opponents and fights involving David Haye, Juan Manuel Marquez and Rocky Juarez were either postponed or canceled, Golden Boy Promotions will be eager to give Ortiz an opportunity to fill those shoes.

Whether or not he is ready to face the best in the division remains to be seen, but this weekend's clash with Maidana is clearly the first step in grooming Ortiz as boxing's next big star. Make no mistake, with 24 knockouts in 26 fights, Maidana is a tough test. His only loss was in his last bout, a controversial split decision that he dropped to current WBA jr. welterweight champion Andreas Kotelnik. If Ortiz can look just as impressive against Maidana as he did in his last bout against former title challenger Mike Arnaoutis, he'll send a message to the rest of the division that he has arrived on the scene. With the history that Ortiz has with Bob Arum, an eventual showdown with Manny Pacquiao somewhere down the road could be at stake. This is definitely one fight that you don't want to miss!
[ Follow Ben Thompson on Twitter @fighthype ]