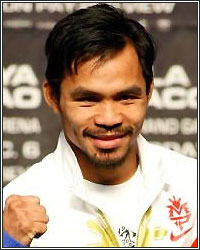 Not so fast fight fans! Just when you thought a clash between pound-for-pound champion Manny Pacquiao and welterweight champion Miguel Cotto was virtually a done deal, it looks like the two sides might be further away from signing their names on the dotted lines than we first expected. According to Nick Giongco of the Manilla Bulletin, Pacquiao revealed that although negotiations for his proposed bout with Cotto are running smoothly, they have yet to agree on the purse split or the catch-weight for the bout. While it's understandable that the revenue for the fighters is still being negotiated, many had assumed that both sides already agreed on a catch-weight after trainer Freddie Roach revealed that he had no problem with the bout taking place at 145 pounds. It appears that Pacquiao has different plans as he admitted that he'd still like to shoot for a catch-weight of 142-143 pounds.

Originally, Roach was also looking to get the fight made at 143 pounds, but he backed off that stance when Cotto's nutritionist said it would be impossible for him to get below 144 pounds. "Cotto is a welterweight and the nutritionist is saying the lowest he can go is 144. Manny will be fine with that. He doesn't want a guy to get in there and injure himself by fighting at an unrealistically low weight," Arum stated early last month. Roach would later reply, "Arum called me and I told him that I did not have a problem with the fight being at 145 pounds. In reality, it doesn't matter to me if Cotto wants to weigh 200 pounds."

Although Arum, Roach and Cotto were all under the impression that 145 pounds wouldn't be a problem, apparently, they forgot to ask Manny. "Maybe 80% sure," Pacquiao stated when asked how close they were to closing the deal, however, there's still that 20% that could prevent the fight from happening at all. "They want 145 pounds. I want 142 or 143," Pacquiao revealed earlier this week before arriving in the United States for a Nike photoshoot. He also said that there's still some debate as to whether or not the fight will take place in October or November. Pacquiao would prefer to fight in October so he can focus on his budding political career sooner rather than later.

Although these factors appear to be minor, Pacquiao has been known to be a little stubborn when it comes to negotiations. In the past, he was willing to walk away from bouts with Ricky Hatton and Oscar De La Hoya if he didn't get what he wanted. Ultimately, he got what he wanted as both Hatton and De La Hoya gave in to his demands. If Cotto is unwilling to compromise, however, it could open the door for Mosley, who earlier this week decided to stop pursuing Pacquiao after a determined campaign by his publicist and promotional partners to get him in the ring. "We're moving on. Shane was like a volcano and he gave me my marching orders to go get him another fight. Now, I will be talking to some of these other names in the weight class," CEO Richard Schaefer informed Dan Rafael of ESPN.com earlier this week.

Of course, that was before Pacquiao revealed that he still wanted Cotto to get below 145 pounds. Where Cotto may be reluctant, Mosley has made it clear that he's more than willing to concede to Pacquiao's demands. "I don't think the fight would be at 42 or 43; it would be at 144, so I would meet him halfway. I think that's what they're talking about. I don't know where 142 or 143 is coming from, but we're going to make the fight there on all scales. I'm willing to work with Pacquiao on different things to make the fight happen because I believe I'm the best fighter...I had a history of fighting at 135 when I wasn't a lightweight. I never was a lightweight fighter, but I managed to get down to 135, so I know I could do it," Mosley eagerly stated just one month ago in an interview with FightHype's own Percy Crawford.

So don't count your chickens before they hatch. Although Mosley has stated he's moving on, in boxing, a lot can change in a short period of time and with promoter Bob Arum currently away on a two-week vacation, it appears that there are still a lot of details to be ironed out before Pacquiao vs. Cotto becomes a reality.
[ Follow Ben Thompson on Twitter @fighthype ]