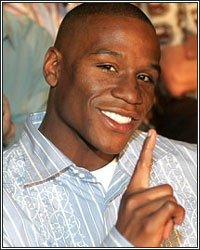 Floyd Mayweather Jr. and Juan Manuel Marquez held a conference call to promote their September 19th clash, a bout that was originally scheduled to take place this weekend, July 18th, until a rib injury suffered by Mayweather forced a postponement. Ever since the fight was announced, there's been much speculation as to what weight the two fighters would meet at. Fortunately, all the involved parties cleared up any confusion during the call by informing the media in attendance that the fight was a welterweight bout, meaning anything between 141 and 147 pounds. Huh?

Originally, it was believed that both fighters would meet at a catch-weight of 143 or 144 pounds, but to the surprise of Marquez's trainer, Nacho Beristain, rumors began to surface weeks ago that the fight was actually taking place at the welterweight limit of 147 pounds. "They are saying that they changed it to 147 pounds. Juan is eager to fight Mayweather and does not care about that, but if the fight is allowed to take place at that weight, Floyd could rise to 160-pounds by the time he enters the ring, or more. The chances of that taking place if he weiged 143 are far less because he would have to work a lot harder to make the weight. I need to speak to Juan about this," Beristain told The Record.

Today, it appears that no one was eager to discuss the actual weight limit of the bout. In fact, De La Hoya revealed that they were keeping it a mystery to get people to watch the weigh-in on September 18th. The question is why the big secret? Since when is it important to get people to tune in to a weigh-in? It seems odd that the promoters would keep the weight a secret, especially when most fans already believe that Marquez is coming into the fight at a big disadvantage. Marquez has never fought higher than the lightweight limit of 135 pounds. Although Mayweather revealed that he's already close to 147 pounds, one would think that the matchup would look more competitive and sell more tickets if fans knew in advance that the welterweight was willing to face the lightweight at a catch-weight instead of a guess-weight. Is this truly a case of creating excitement about a weigh-in or is Mayweather uncertain of how low he can go in weight? I guess we'll find out on September 18th.