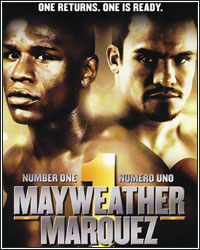 Although the summer is in full swing, Floyd Mayweather Jr. and Juan Manuel Marquez are already thinking about the fall and their September 19th mega-fight. Check out what both fighters had to say as they discussed their upcoming bout during a media conference call.

FLOYD MAYWEATHER JR. ON HIS FIGHT WITH MARQUEZ...

"With the layoff that was a good thing. When I was training a little while back I was pushing myself to the limit."

"I'm anticipating getting back in the ring. It's making me work so hard. I'm waking up at 4 in the morning."

"Marquez is a Mexican warrior he represents himself and the heritage extremely well. What I got to do is be me and box smart."

"All jokes aside. I can't overlook this guy."

"Guys like Marquez deserve a shot so he can make some money."

"I would have to rate him [Juan Manuel Marquez] over Manny. For a guy to knock him down three times in the first round and he comes back to get a draw, we know who lost."

FLOYD MAYWEATHER JR. ON HIS RIB INJURY...

"I got hurt in training and I'll leave it at that. I don't have to go in depth in what happened to me."

"Believe me, it wasn't a small guy that done it, but it didn't even come from sparring."

"When it happened, I tried to work through it. I was sparring for a while, but then it happened again. I said, 'You know what, I can't try to be a superhero. I've got to take time off and let it heal.' I'd never tell exactly what happened. I just had a rib injury."

FLOYD MAYWEATHER JR. ON MANNY PACQUIAO...

"I don't have anything bad to say about him because he's never called me out."

"He's never said he wants to fight me."

"You don't hear fighters calling me out and if they do it's because they only want a payday."

"If Manny really does want to fight me all he's got do to is say it. We can pay Marquez to step aside, we can pay him $1 million. Is you ready? Let me know."

"If he [Bob Arum] wouldn't be so greedy, that fight would happen."

"Bob Arum wants [a] 50-50 [purse split], that's why we'll never get that fight."

"We don't like to negotiate our personal business, but everybody knows [Pacquiao] is not going to get a 50-50 with Floyd Mayweather."

"Manny is a good fighter, don't take nothing away from him."

"But fans seem to forget this, when he got beat by Erik Morales I was still at the top of my game. He hasn't done anything that I haven't done. He just followed behind me."

"It's like a T-bone steak. I eat all the meat off the steak and they threw him the bone."

"He hasn't done nothing I haven't done. Where was he when I was dominating in the '90s? He hasn't called me out. I'm not hard to find. I ain't worried about him. With or without him, I'm comfortable. I'm happy. He don't make me. I don't chase opponents. Opponents chase me. The biggest fight in boxing is Mayweather versus anybody."

"Manny Pacquiao has the worst contract in boxing with Bob Arum right now; 27 percent."

"I keep 100 percent of my money. Are you serious? 27 percent?"

JUAN MANUEL MARQUEZ ON HIS FIGHT WITH MAYWEATHER...

"I believe this is the hardest fight of my life. I have to box intelligently."

"I'm putting all the ingredients together in my game plan so I can beat Mayweather."

"I'm getting ready for the best Mayweather ever. I not thinking about his retirement."

"I'm thinking of beating the best fighter in the world."

"Mayweather is the best. He retired undefeated. When I fought Manny, I thought I beat him both times."

JUAN MANUEL MARQUEZ ON MAYWEATHER'S RIB INJURY...

"I was peaceful. I knew that's it was just a misstep. I was ready but I remained calm. Whatever happens I know this sport, you know that injuries are a big part of any sport. I just had to stay calm and now I'm getting ready again."

"I'm sure that there's solid evidence."

"There should be some paperwork from the doctor, and I'm sure he presented the paperwork that was needed. I was calm. I'm fine. Things happen for a reason."

RICHARD SCHAEFER ON A MAYWEATHER-PACQUIAO CLASH...

"Floyd Mayweather in his last two fights generated more than the last five Pacquiao fights combined. That's a fact."

"A fighter, just like anyone else, has a certain market value they establish over time."

"Mayweather, in his last two fights did 3.5 million buys with Hatton and Oscar. Pacquiao has fought the same two guys and it did a little more than half of that."

"So, it's difficult for Floyd, who has worked so hard to get to where he is today, to say, 'Okay, it should be 50/50,' because in fact, it shouldn't be 50/50. Each guy has a certain market value and they should get compensated accordingly."