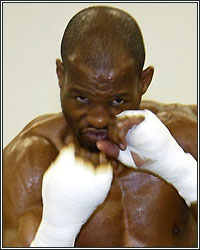 During Friday's telecast of ESPN2 Friday Night Fights, future Hall of Famer Bernard Hopkins picked Manny Pacquiao to defeat Miguel Cotto when the two clash on November 14th. "I think it'll be a heated battle early on. I just like Pacquiao because Pacquiao's proven fight after fight after fight that he can answer the call. He is the legitimate pound-for-pound fighter right now until something else happens," stated Hopkins.

Hopkins, who's proven to be an excellent teacher of the sport after taking middleweight champion Kelly Pavlik to school over the course of twelve rounds in his last fight, continued to break down the matchup as he gave his analysis of both fighters strengths and weaknesses. "I think that Cotto is a game fighter. He's tough. He has the mentality of an Arturo Gatti sort of. He's gonna come and he's going to try and press you and he's willing to take some to give some. But Pacquiao is a sharp-shooter. He punches in angles. He's got Freddie Roach who's going to give him all of the teachings and the smarts to be able to basically give Pacquiao [the edge]," he continued.

His final prediction? "In the end, basically, I see Cotto busted up. I don't think his face is gonna hold up through twelve rounds of the fight. Cotto's game. He's a game fighter. We all know he comes with that Puerto Rican pride; he's coming in to try to win the fight, but I just think that the Margarito fight, where he suffered punishment from round [one] to the end...and also the last fight he just fought, he showed grit and he showed guts and he pulled it out, but he had a nasty cut; too many things working against him, not for him, and he's fighting a guy who's going to take advantage of all those opportunities," Hopkins stated.

World-renowned trainer and broadcaster Teddy Atlas echoed those sentiments, basically calling Cotto damaged goods as he shared his opinion that the Clottey fight proved that Cotto is no longer the same fighter, both mentally and physically. Given those type of predictions from two of the most knowledgeable fight analysts in the sport, November 14th can't get here soon enough to see if Pacquiao will dominate Cotto as Hopkins and Atlas are expecting.
[ Follow Ben Thompson on Twitter @fighthype ]