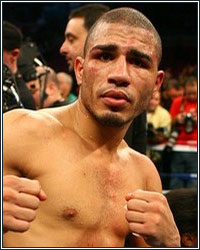 WBO welterweight champion Miguel Cotto recently revealed that he'd rather vacate his title than pay $150,000 in sanctioning fees for a November 14 bout with Manny Pacquiao set to take place at a catch-weight of 145 pounds. "The weight of 145 pounds is not a category. If the WBO is upset with my decision, I shall deliver them the title. I have no problem with that," Cotto defiantly stated in a recent interview with Primera Hora.

During negotiations for the bout, both fighters agreed to face each other at a catch-weight of 145 pounds. Initially, there was no mention of Cotto's WBO welterweight title, but after realizing he could become the first boxer in history to win seven titles in seven different weight divisions, Pacquiao had a change of heart and insisted that Cotto's title be on the line. "The people want this fight and they want it to be a title fight. So, let's make it a title fight...I'm willing to pay the sanction fee," Pacquiao revealed.

Although Cotto is more than willing to put his title up for grabs, he'll only do it if Pacquiao will fight him at the welterweight limit of 147 pounds as opposed to the catch-weight of 145 pounds. "If Pacquiao wants to fight for the title, it will be at 147 pounds. I won the title at welterweight and that's 147 pounds," Cotto continued. "The WBO has the authority to strip me as a champion and I'll give them the title, but Paco Valcarcel knows better than anyone that 145 pounds is not a division."

Thus far, contracts have yet to be signed by either fighter, but Arum remains confident that this latest controversy over the title will not prevent the bout from taking place. "Whatever he [Pacquiao] wants, I will work out," Arum would tell Ronnie Nathanielsz of Boxingscene.com. WBO President Francisco "Paco" Valcarcel has already assured Team Pacquiao that the WBO welterweight title would in fact be up for grabs whether Cotto pays his sanctioning fees or not. "Manny has to write the WBO a letter of request. Then he talks to Bob Arum and Bob will inform me. Arum is willing to do it, you know? Now after that, we can push Miguel Cotto to do it. I talked to Arum before in New York and he wants to do it. I will talk to Arum again and we will tell Cotto to do it," Valcarcel informed Dr. Allan Recto of PhilBoxing.com. In the event that Cotto vacates or is stripped of his title, Valcarcel reiterated that Pacquiao could still win the title so long as his sanctioning fees are paid. "If he wins, he will get the title as WBO Welterweight Champion of the World."

While I wholeheartedly agree with Cotto's stance that a welterweight title fight should only be sanctioned if the welterweight limit of 147 pounds is enforced, it looks like his title is going to be up for grabs whether he likes it or not. My advice to Cotto, save your money and don't bother paying the sanctioning fee. If you lose, you're going to give up the belt regardless. If you win, you may not have the WBO title anymore, but you just picked up something much more valuable...a win over the best pound-for-pound fighter in the sport. If all goes well, you can put that $150,000 towards the victory party.
[ Follow Ben Thompson on Twitter @fighthype ]