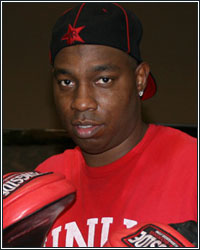 "What can you say about Anderson? You just gotta give him all of the props in the world. The guy is probably the best mixed martial artist that we've seen in this young game without a doubt. I would like to say bad things about the guy, but he's such a nice guy…obviously his game speaks for itself," stated world-class trainer Ron Frazier as he talked about Forrest Griffin's loss to Anderson Silva at UFC 101. Check out what he had to say about Griffin, Silva, Johny Hendricks, Amir Saddolah and much more.

PC: How has everything been going Ron?

RF: Everything is good man. Everything is real good. I'm getting ready to have a baby in a couple of weeks. Things are good.

PC: Congratulations! Do you know what you're having yet?

RF: Thanks man. Yeah, I'm having a little girl.

PC: You split fights at UFC 101. Johny Hendricks won and Forrest loss. Johny first. What did you think of his performance?

RF: It's just kind of how we drew it up. Amir is a tough dude. He's also a guy that trains at Xtreme Couture, so watching him work for the past year or so, because he's been out because of injury, I kind of knew what to expect from him. We kind of expected what we got. Johny hits hard man and I don't think people realize that yet because he's a wrestler and people just assume he's going to shoot in, but he's looking to stand and bang and use his hands a little bit more and it went exactly how we planned.

PC: Were you a little bit surprised that Amir charged him right off the bat being that he was off so long? Did you guys think he would pace himself a little at first to see where his cardio was at?

RF: No. Amir works extremely hard in the gym, so he probably knew that cardio-wise he would be fine. He trains with a lot of tough guys. He goes to a couple of different gyms in Vegas, so I think he knew his cardio would be good. But that's how Amir is. I think on the show that people didn't realize that he has a Muay Thai background. They see on the reality show that he got the armbar on CB and then he done it again in the TUF Finale, but primarily, his background has been in Muay Thai, so I think he wanted to show that in this fight.

PC: Did him showing up at the weigh-in weighting 166.5 pounds change anything you guys planned on doing?

RF: It surprised me that he weighed that low, but it didn't change our gameplan any. I think that was just a miscalculation in losing weight that last day. I seen him a couple of times throughout the week and I've worked with a lot of his trainers, so I was surprised that he came in at 166.5, which was a little too low. I was more concerned for him just from a competitive standpoint that he didn't try and rehydrate too much and he put too much weight on and that would have affected his cardio. But unfortunately or fortunately, depending on how you look at it, we didn't get to that point in the fight to worry about any of that.

PC: It appeared Johny hurt and possibly broke his hand again. Have you talked to him and what is the process now to getting it healed?

RF We're not sure. He's gotta go to the doctor to see if it's actually broke, but he definitely reinjured the hand that he broke back in March. So we will see what's up with that to see what the healing process will be. We're probably going to change the gloves that he uses when he spars, so he will have a little bit more protection for his hands. But it might just be one of those career long things. I know a lot of boxers have been through it and a couple of guys in MMA as well. Their hands don't hold up to the power and the abuse that they give out, so it might be one of those career long things. I hope not. Hopefully it's just a bruise, but we'll find out when the doctors reports are in.

PC: How do you feel about the stoppage? Do you think it was a bit early or do you feel they saved Amir from punishment?

RF: I thought it might have been a little bit early. Amir looked like he was getting back up, but from the referee's perspective, Amir was dropped and he wasn't necessarily doing anything or defending himself. It looked like he was trying to get back up, but the referee is in a tough spot and it's kind of damned if you do and damned if you don't. If he stops it early, the guy jumps up and says, "Hey I'm okay" and everybody complains. But if he lets a guy take 12 unanswered shots or something serious happens, then everybody says he waited too long. You're in a no-win situation as a ref. Johny and Amir did what they were supposed to do. It's up to the ref to say what he sees and if he sees a fighter in peril, then it's up to him to stop the fight. Amir can live to fight another day and a rematch could possibly happen.

PC: I know how highly you think of Forrest Griffin. Do you think his fight with Anderson was a case of Anderson making everyone look bad?

RF: I mean, so far, he's made every great fighter he's went up against look bad. The gameplan that we had throughout the camp just didn't come through in the fight. We thought he would move around a little bit and feel him out, try to attack at angles and put him up against the cage and then maybe take him down and go from there. Just as it seemed like Forrest was feeling him out, he got hit with a right hook and he never recovered from that. He never really recovered from that at all and it was pretty much the beginning of the end from that point. What can you say about Anderson? You just gotta give him all of the props in the world. The guy is probably the best mixed martial artist that we've seen in this young game without a doubt. I would like to say bad things about the guy, but he's such a nice guy. I actually rode to the airport with some of his crew and he sees me and comes over and gives me a hug and says, "Coach, how are you doing?" So I would like to sit here and say bad things about this guy, but I can't. And obviously his game speaks for itself. Like I tell people about his previous two fights, Patrick Cote was trying to make him lead and he doesn't like to lead. He likes to play counter puncher. And against Thales Leitas, I blame Thales more than I do Anderson because Thales got him into a situation early that he wanted. He got him on his back and couldn't do anything with him and decided he didn't want to fight anymore. What could you do? You don't want to run in there and make a mistake. He's a cautious, but very explosive fighter, so he wasn't going to do that. If you come to him and press forward, then he tries to exploit that and that's what he did Saturday night against Forrest.

PC: Once you guys were at the weigh-ins or maybe even the pre-fight press conference, did you think Forrest would have more of a size advantage or was Anderson about where you gauged him to be?

RF: I gauged just about right and really, it wasn't about how much Anderson was going to come in weighing. I wasn't worried about that. The thing is this. Forrest is a big 205 pounder. He's strong, but he's at his optimum weight at 220. It appears now that Anderson Silva is as well. But our thinking coming into the fight was, here is a guy that has fought at 205, but he normally competes at 185 and when he rehydrates at 185, he probably comes in at 205 and that's his optimum fighting weight. Again, when a guy is fighting heavier…because the plan was to put him on his back and let him carry his own weight, which is heavier then he normally fights at and Forrest's weight, and see if that could kind of wear on him and grind on him. Unfortunately, it never got to that point and the weight was never an issue.

PC: How is Forrest physically? A lot is being made about the way he exited the cage. Why did he run back to the locker room afterwards?

RF: He wasn't injured. He's an emotional guy and he just didn't feel like sticking around. He's done that before. After the Jardine fight, they kind of surrounded him a little bit, but he said a couple of things into the mic and left the cage pretty quickly. Just the emotions of…here is a guy who is very confident that he could win this fight and he just never had a chance to get off. He's an emotional creature, so he left the cage. It wasn't really a big deal. I think people are making a bigger deal about it then it really is. It wasn't anything left to see anyway. Anderson had beaten him and it wasn't like it was going to a decision. We already knew what happened, so he decided to go into the back and get his tape off and get changed and everything else. I think he was kind of comforting us more than anything else because we were all down and bothered and you know, that's that.

PC: I'm sure you've had conversations with him since then. How is he holding up?

RF: He's okay. You know, obviously he's upset by the loss and the way that it happened because it was in a way that he feels embarrassed by. It's weighing on him a little bit, but he will be fine. He'll come back. Sometimes his biggest asset is his heart and it can be his biggest downfall. In that fight, when he got hit with that first right hook, his mindset was, "Okay, let's scrap!" It should have been clear your head, change your angles and try a different approach. But you know all the gameplanning and tactical stuff that cornerman say and moreover what fans and journalist say are all easy when you ain't the one who's gotta do it. It's easy for everybody to say we should've done this and that, but when you gotta go in there and fight whoever it is at whatever level, it takes a lot. It takes a lot to go in there and pull off a gameplan. Coaches sometimes get too much credit when you win and too much blame when you lose. Freddie Roach said it best, "It's easy to look like a genius when you have the athlete that can go in there and pull those things off!" People don't understand that. It was a fight. It was a great camp and he is a great guy. I know some people might be down on him because he left the cage and that's their prerogative being fans of the sport or journalists of the sport. His training partners and his coaches still have the utmost respect for him and he's going to come back. People will doubt him and that's okay. That's par for the course. When you're in the fight game and you lose, a couple people will start doubting you and you have to climb back up that mountain. He will be ready for the climb.

PC: Will you be working with Frank Trigg for his UFC 103 fight against Josh Koscheck?

RF: Yes, I am working with Frank Trigg. I will be working with him for his fight against Koscheck. We're already in the lab doing some things to get him prepared. He was out in Philadelphia working on some promotional stuff and we were working on some stuff there. We will be back on it again today.

PC: How about Randy Couture? How is he looking in his preparations for Minotauro?

RF: Randy is looking good man. He's ready for his fight on August 29th against Nogueira and I'm looking forward to that fight. I will not be there because my little girl will be here any day now. My girl is pregnant, so Samara Jade will be making her appearance into this world any day, so I'm going to sit back and enjoy being a first time father, enjoy Randy's fight and then on to Trigg in September.

PC: Thanks for your time Ron as always. Good luck with the new addition and congratulations again. Is there anything you want to say in closing?

RF: No, that's it man. Thank you for having me. I appreciate it.
[ Follow Percy Crawford on Twitter @MrFighthype ]