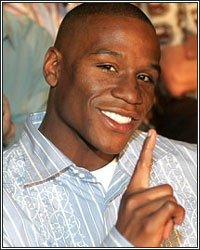 "I think I was just held back. I could have been a bigger, quicker [draw] if I wasn't held back from PPV by Bob Arum. I feel that my first PPV fight should have been with Angel Manfredy. Bob Arum is biased against black fighters; he leans towards Hispanic fighters and keeps them on PPV," Floyd Mayweather Jr. revealed in a recent interview with AllHipHop.com. While at first glance, the comment might seem like another attempt by Mayweather to garner attention just weeks prior to his return to the ring, there just might be some truth to his claim.

This isn't the first time that Arum has been accused of being racist. Robert Lee, the former president of the IBF, once said of Arum, "He once told me, 'We will let the Blacks and the Latinos fight in the ring and we will count the money on the outside.'" In his latest interview, Mayweather took it one step further by accusing Arum of favoring Hispanic fighters over black fighters because of a difference in drawing power. "He tried to install in our minds that blacks can't sell PPV or sell out arenas. But that's not true; we are known for having the best entertainers and the best athletes. That's been known for many years. But you live, learn, and keep striving," added Mayweather.

To some extent, Mayweather has a point. Top Rank Promotions isn't exactly a breeding ground for talented black fighters. Of the 45 or so active fighters that are currently listed on their roster, only 6 of them are black, including Lamont Peterson, Anthony Peterson, Kendall Holt, Hasim Rahman, Demetrius Hopkins and Joshua Clottey. Not one of them are regulars on PPV. Those 6 fighters have fought a total of 4 fights this year compared to the 5 fights that Filipino fighters Nonito Donaire and Bernabe Concepcion, also promoted by Top Rank, have already had in 2009. Fortunately for Anthony Peterson, he was given the opportunity to showcase his talents this past weekend in the first televised bout on the undercard of Pinoy Power 2, a series that's marketed towards the Filipino community. Top Rank also has their Latin Fury series that is regularly headlined by Julio Cesar Chavez Jr. and is marketed towards the Hispanic community by featuring cards stacked with Hispanic talent. I could be wrong, but at this time of this writing, I don't think there's been any discussions about a potential Black Pride series.

That being said, you can hardly blame Top Rank for measuring trends in the sport and giving consumers the products that they want. Top Rank is a business and the goal of any business is to make money. While I agree that black fighters have been some of the best entertainers and athletes in the sport (Tyson, Ali, Leonard and Jones all come to mind), I find it hard to believe that Bob Arum would purposely prevent his company from making money. If Top Rank had a black fighter that fans were eager to spend their hard-earned money to see, believe me, that fighter would be on PPV by the time he was 10-0...maybe even sooner. After all, Julio Cesar Chavez Jr., who's currently 39-0-1 with 29 KOs, has fought all of his televised fights on PPV and he hasn't even won a major world title. It's got nothing to do with race and everything to do with the market. Right now, the consumers of boxing aren't looking for a flashy, flamboyant, trash-talking entertainer...they simply want a wrecking machine who's willing to lay it all on the line and go out on his shield if necessary. Basically, they just want to see someone who's willing to trade leather, regardless of race. It's just the majority of those fighters right now happen to be Hispanic or Filipino, therefore, Bob Arum and Top Rank choose to focus more on the product that's selling well.

Of course, this also isn't the first time that Mayweather has accused someone of being racist. During his retirement, Mayweather bashed HBO's boxing announcers for what he perceived to be biased racist treatment towards certain fighters. "Even a guy like Jim Lampley, he praises Kelly Pavlik -- who has won some good fights, he beat Jermain Taylor twice, we have to give him credit for that -- but they talk about Kelly Pavlik, a white fighter, like he's the second coming. Or they go crazy over Manny Pacquiao. But I'm a black fighter. Is it racial? Absolutely. They praise white fighters, they praise Hispanic fighters, whatever. But black fighters, they never praise," Mayweather stated. Again, I understand what Mayweather is trying to get at, but his example is poor considering that the same HBO announcers who were talking about Pavlik, a white fighter, like he's the second coming were also talking about Jermain Taylor, a black fighter, like he was the second coming until he lost to Pavlik. I think the more important question that Mayweather should be asking is where have all the black fighters gone? While Top Rank may only have 6 black fighters, Golden Boy Promotions isn't that much better considering they only have 9 black fighters out of their roster of 55. The two companies combined have over 100 fighters and less than 20% are black. That's an eye-opening statistic for a sport that was once dominated by black fighters, as Mayweather astutely pointed out. I don't think you can blame Bob Arum for that one. The fans or the sport itself might be biased towards black fighters, but I certainly don't think Bob Arum is. The only color that Bob Arum sees on a fighter is green.
[ Follow Ben Thompson on Twitter @fighthype ]