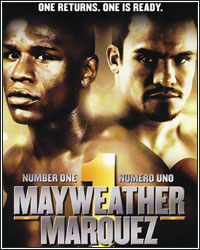 Last weekend, as the Mayweather family gathered for food, drink, music and dance, a room full of onlookers watched in disgust as Juan Manuel Marquez appeared on the television screen and could be seen drinking his own urine. "Oh, hell no, dawg! Tell him to open his mouth. Tell him to open his mouth. I'll give him some real...I'll give him some gorilla piss. I'll give him some Silverback piss if he open his mouth," Mayweather boldly proclaimed in the third of installment of Mayweather-Marquez 24/7.

"Ya'll don't know who Pee-Pee Mouth is? It's Marquez. Pee-Pee Mouth. Pee-Pee Mouth Marquez, that's who I'm fighting," he added as he laughed and played with his children. Shortly after the party, Mayweather hit the streets of Vegas for a late-night run. "If you in good shape, you in good shape. You don't need to drink no piss. We ready baby...all I say to any fighter, they can say what they want to say, you put them in front of me and I'm gonna beat 'em. You better believe that, you know what I'm saying? Yeah, I got a big mouth. Ya'll want to have somebody shut me up, then if they can shut me up, then that's what it is. Until then, I'm the king," Mayweather remarked as he continued to train for his upcoming clash.

Meanwhile, Marquez continued to get in some tough sparring as he focused on landing quick counters and hard left hooks to the body. "What a machete Juan's throwing. He started to look fater in these past few days with more fluid movement. The whole team is happy now," Marquez's trainer Nacho Beristain commented.

The personality and mentality of both men couldn't be any more different from one another. "The words, the looks, being a braggart, that doesn't count. I think the most important thing is what you do up in the ring," Marquez commented, focused on the challenge at hand. "No fighter poses a threat to me at all. If we in Las Vegas, we can be in Mexico, it doesn't matter; it's still going to be the same outcome," Mayweather remarked, ready for another day at the office. With just one week left to go, both fighters are peaking for their anticipated showdown and come September 19th, all the talking will come to an end when the two men step inside the ring.
[ Follow Ben Thompson on Twitter @fighthype ]