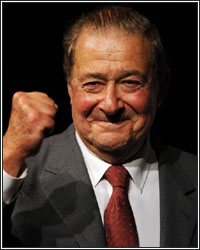 "The fight that should be made is Mayweather and Shane Mosley, but Mayweather won't take that fight. He won't take any fight where there is any possibility where he might lose," stated world-renowned promoter Bob Arum as he talked about the possibility of a future clash between Floyd Mayweather Jr. and Manny Pacquiao.

"Money is secondary with him. He will not take a chance like a normal fighter. He cares more about his legacy and being able to retire undefeated so he could say that he never lost a fight," Arum continued as he spoke to Rick Reeno of BoxingScene.com earlier today. Those comments seem to contradict the public persona of "Money" Mayweather, who has fully embraced the "get rich or die trying" attitude of the hip-hop world over the years. If money was secondary to his legacy, why would Mayweather return to the sport in the first place considering that he already retired undefeated?

Although Arum has stated on several occassions that he would love to make a mega-fight between Pacquiao and Mayweather, the chances of that happening are slim if the two fighters aren't willing to share the purse equally. "If I start hearing 60/40, that just tells me to hang up and move on to the next guy," Arum remarked, making it clear that Mayweather would not be getting the lion's share of the purse should the fight get made. That being said, Arum does have a backup plan for the man that wins on November 14th, "I think Pacquiao and Cotto should give Mosley some serious conisderation."
[ Follow Ben Thompson on Twitter @fighthype ]