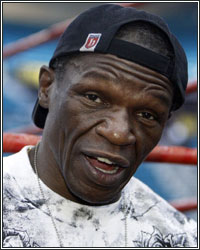 Still proud of his son's impressive return to the ring last month, Floyd Mayweather Sr. is eager to get back in the gym. "If I didn't have this disease, I would fight again! I still have very fast hands. My hands are probably faster than most of these guys out there; maybe not a return, but I would definitely box in the gym more. Not too long ago, I beat the breaks off of a cruiserweight that was talking shit that he could kick all of the Mayweathers' asses, so I know I can still fight," exclaimed the world-renowned trainer. Obviously Mayweather Sr. won't be returning to the professional ranks, but it's good to know that his rare lung disease, sarcoidosis, is under control, he's feeling healthy and he's eager to get back to training.

An admitted junk food junkie, Mayweather Sr. recently altered his diet drastically, even giving up his favorite drink, Mountain Dew. "I have changed my diet and I only eat organic foods now. I just feel a whole lot better man. It wasn't doctor ordered or anything, but a girl was telling me about organic foods once and I finally gave it a try," he continued, "I always thought organic food was nasty, but it's pretty good man. It's natural and you can buy just about any food in organic form without all of that added stuff. I don't eat all of that junk anymore. I have cookies, but they are organic and you know how I love Mountain Dew. That's all I would drink, but I don't even drink that anymore."

Needless to say, the organic foods have him feeling a lot better. Already ripped and lean, don't be surprised to see a more bulked up Mayweather as well. "The next time you see me, I'm going to be bigger too man. I started drinking those Ensure drinks and I have put on some weight. I had to slow down on them before I got too big."

They say that power is the last thing to go in a prizefighter. Mayweather Sr., however, may be living proof that the last thing to go is confidence. One thing he is not lacking is swagger and with his health now under control and Roger Mayweather's impending legal troubles, Mayweather Sr. could take on an expanded role when it comes to training his son for future bouts.
[ Follow Percy Crawford on Twitter @MrFighthype ]