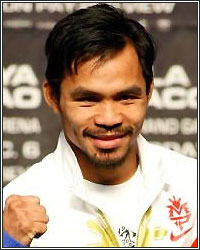 According to a report by Tim Smith of the New York Daily News, the potential Pacquiao-Mayweather uber-event will most likely not take place at Yankee Stadium because of New York's high state income tax.

On September 10, Yankees COO Lonn Trost stated: "There will be a winner between Mayweather and Marquez (Mayweather won a UD), and there will be a winner between Cotto and Pacquiao. And those winners will fight each other. Where better than Yankee Stadium to have that fight?"

For the fighters, there are better places.

Nevada and Texas have no state income taxes, which make those two states frontrunners for the fight.

Texas' Cowboys Stadium would be the logical venue if the bout ended up in the Lone Star State. With the potential to house 100,000 patrons, you could attract the requisite big spenders, while leaving tens of thousands of seats for the comparatively less wealthy.

In Las Vegas, there are myriad possibilities. Any of the usual suspects (MGM, Mandalay Bay) could house the fight. Sam Boyd Stadium, home of the UNLV Football team, seats 36,800 for games. A boxing event, with floor-level seating, would be able to squeeze in more.

If New York is itching to host the fight, how about giving the fighters tax breaks? With 30-40,000 (a conservative estimate) flooding the city for fight week, that would create countless millions in revenue for the state. That's a small price to pay for an event befitting the country's largest city.