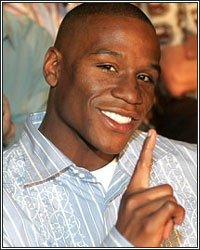 "I deserve the bigger piece of the pie. I've done more, I've been around the sport longer and I've been dominating longer. And nobody has beaten me yet. Like I said before, they trying to build a fighter to beat me. They built Ricky Hatton up, undefeated; it didn't happen. They constantly build these fighters up. It's not going to happen. When God wants me to lose, that's when I'll lose," stated undefeated multi-division champion Floyd Mayweather Jr. as he talked more about a potential clash with Manny Pacquiao. Although negotiations for the showdown have yet to officially get off the ground, Mayweather is already doing his part to state his case for the lion's share of the purse.

"I'm not duckin' or dodgin' no opponent. If Pacquiao is the man that's next, he step up to the plate and that's another ass I got to tap. You know what I'm saying? I'm not duckin' or dodgin'. The thing is this, if Pacquiao want it, he can get it. Come on man, I don't have to say, 'Oh, I want to fight Pacquiao.' Floyd Mayweather is the face of boxing. All roads leads to Floyd Mayweather," he continued in an exclusive interview with Adam Smith of Sky Sports.

Mayweather's stance on the purse split and some of his recent comments to the media won't sit too well with promoter Bob Arum, who made it clear that although he's willing to negotiate, he won't tolerate any arrogance or smugness at the negotiating table or in the media. "Manny is open to fight anybody. I make that statement now. I'm not going to put up with any nonsense. I'm not going to put up with any trash talk in making the fight. I'm not going to negotiate a fight in the newspapers. If Floyd Mayweather wants to fight Manny Pacquiao, he knows who to call...if he wants to fight Manny Pacquiao, let him call me," Arum remarked during the post-fight press conference immediately following Pacquiao's impressive win over Cotto.

Of course, it only took one day for Mayweather to do just the opposite, speaking openly about his opinion that Bob Arum and Freddie Roach are forcing Manny Pacquiao to take a fight he truly doesn't want. "Pacquiao know, as a fighter, he knows as a fighter, he know what he's facing when faces me. I want the fans to go, all you gotta do is go look. You seen what happened with Marquez. It was a cakewalk for me. It was like a father playing with his young son. Agile, very very smart, very very intelligent; I've been around the sport a long time. He knows what he's facing when he faces me," Mayweather continued. "The fans can say they want to see the Mayweather fight with Pacquiao, but they don't have to get in there and get they ass tapped by me. So they can't fight for the kid. Like I said before, if he wanted the fight, he could've; you know, it's always, they say, 'Pacquiao want the fight.' That's Bob Arum talking because Bob Arum doesn't care about a fighter. Bob Arum cares about Bob Arum only. You must realize, Freddie Roach, each day, his sickness is getting worse, so he gotta cash out as quick and as soon as possible and he know the only road where he know Manny Paquiao can make the most money is with Floyd Mayweather."

After witnessing this latest interview with Mayweather, all I can really say is wow...just...wow! Listening to Floyd, it's sounding more and more like the chances of a clash with Pacquiao grow smaller every time he speaks. I can only hope that I'm wrong, but don't be surprised if negotiations fall apart before they even begin.
[ Follow Ben Thompson on Twitter @fighthype ]