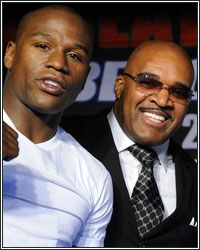 "Floyd has proved himself the undisputable champion and numbers don't lie. If the fight happens, he deserves the lion's share of the purse," stated Mayweater Promotions CEO Leonard Ellerbe as he shared his thoughts on negotiations for a potential clash between Floyd Mayweather Jr. and Manny Pacquiao. Ellerbe, along with other members of The Floyd Mayweather Jr. Foundation, was recently out and about in Las Vegas, handing out Thanksgiving meals to the homeless.

Although Mayweather himself was not present, Ellerbe made it clear where the undefeated multi-division champion stood as far as the purse split is concerned for the highly-anticipated clash. Of course, it should come as no surprise that Mayweather is demanding the lion's share. Despite the recent announcement that Manny Pacquiao's clash with Miguel Cotto generated 1.25 million pay-per-view buys, Team Mayweather insists that those numbers have no bearing on negotiations, pointing out the fact that Pacquiao's most recent pay-per-view success was bolstered by an opponent like Cotto, who has a strong, loyal fan base of his own. According to Ellerbe, a better barometer to compare the pay-per-view success between the two fighters are the three opponents they share in common, Juan Manuel Marquez, Ricky Hatton and Oscar De La Hoya.

"Floyd clearly is the biggest star in boxing, based on the numbers against the same three common opponents," Ellerbe would explain to David Mayo of The Grand Rapids Press. "And all six of those fights were in a three-year span. It wasn't any long period of time. This isn't difficult to figure out at all. Pacquiao's side has a distorted perception of facts. But numbers don't lie. People do."

That being said, it's a wonder if negotiations will ever officially begin as Team Mayweather continues to try and remind the media who's calling the shots. And even if they do begin, will the two sides ever be able to come to terms if one side isn't willing to give ground? Personally, I'm not holding my breath. The more I read from Leonard Ellerbe in the media, the more I'm preparing myself to see Mayweather give us another exhibition of his defensive wizardry some time early next year in the UK.
[ Follow Ben Thompson on Twitter @fighthype ]