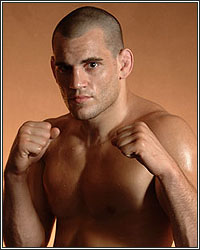 FightHype.com recently caught up with rising UFC welterweight contender Jon Fitch to discuss his upcoming clash with Diego Sanchez at UFC 76. Check out his thoughts on Sanchez and don't miss what he had to say about his training as he talks about how his teammates, Mike Swick and Josh Koscheck, are looking as they prepare for their own fights.

PC: Congrats on your last win and all of your success.

JF: Thanks!

PC: Do you feel like all of your hard work has paid off now that you have a fight lined up with Diego Sanchez?

JF: Yeah. I mean, this is the opportunity I've been waiting for; to break out into the mainstream and let people know who I am.

PC: In your last fight against Roan Carneiro, you had to try and find your range because of his size. The Sanchez fight is totally different. How have you adjusted your training to prepare for Sanchez?

JF: In my last fight, I used bigger opponents that were better at controlling and pulling people to the mat because that was more of the style of Jucao. With Diego, he's a little bit faster fighter. He's a really good scrambler and he looks to try and take your back. I had to bring in some quicker guys that could grapple and good wrestlers that could strike so we could work striking and takedowns at the same time. I want to be able to determine where the fight goes and not him. I have to be a good scrambler for this fight. I've sparred with a lot of southpaws to get used to that.

PC: Are you in a full training camp right now?

JF: Oh yeah! I've been training for a few weeks now.

PC: How much did you take from the Koscheck fight? Are you watching that tape or watching fights where Diego looked a lot better?

JF: I watch all of them. I've been watching him fight for awhile. A lot of the top guys I've been watching for a long time and every time I see one of them fight, I always work out a strategy. That's just who I am. I've been watching Diego fight for a while so I have enough to get a gameplan for him and I get things off of fights that he did well in.

PC: What do you think of Diego as a fighter?

JF: I think he comes to fight. He's always in great shape. He's really strong in certain positions. He doesn't give up and he's really there to fight. He never stops moving. I don't feel like he's fought the best of fighters, but at the same time, he has wins over some tough guys: Nick Diaz, Parisyan was a very good fighter and Joe Riggs was also a very good fighter. He deserves a top 10 spot and I'm very happy to get this fight.

PC: This is your first big card as a showcase fight. How do you not let the bright lights get to you and perform the way you know you can?

JF: I'm having fun. It's like a game to me. I don't take it that seriously. I'm doing what I love. Whether I'm getting paid or not or whether it's in front of 20,000 people or 10 in the gym, I'm having fun. Every day I'm just thankful that I'm not working some boring desk job or doing something else.

PC: What does it mean for you to finally get a chance to be on a card of this magnitude?

JF: It's nice. It's actually less of a stage than my last fight. It was in front of a national TV crowd and I think this fight with Diego is being downplayed because you're getting Chuck Liddell fighting on the card and Forrest Griffin vs. Shogun. It's really not that many people talking about this fight. We're not pictured on the poster. There's not a mention of us on the promo or anything. Actually, I think this is a less profile fight than the previous one. You have to be really looking for it to see anything about the fight. It's being downplayed and for whatever reason, I don't care, but it's a chance for me to fight so…

PC: Do you foresee you and Sanchez being able to steal the show and getting the fight of the night?

JF: Absolutely! I think we match up well. We both come in and lay it on the line and I think this will be the fight of the night right here!

PC: It appeared that you were lined up to fight Karo Parisyan next. Who contacted you about the Sanchez fight and what was your initial reaction to it?

JF: I was on vacation actually and the day I got back, I had a few messages and one of them was my manager saying we needed to talk so get my ass back to California. I was thinking we had the contract for Karo, but when I got back, I called Bob and I found out it was Diego and I was extremely happy. I thought they would give him more of a walkover fight coming off of that loss. Either way, I just want to fight the best, but I felt like calling out Karo would be a lot easier to get than to call out Matt Hughes, St-Pierre or something like that. I want to fight all of these guys; it doesn't matter.

PC: Koscheck will be fighting George St-Pierre at UFC 74. How has he looked in training and what do you think his chance of defeating George is?

JF: His training has been amazing. His ground skills are good and his stand up is phenomenal right now. He has a lot of power in his hands and his clinch is well too. The only thing is St-Pierre has no idea where Koscheck is going to fight this fight. He doesn't know whether to defend the takedown or stand and try to counter him. He has no clue.

PC: Your other teammate, Mike Swick, will be making his welterweight debut in September against Jonathan Goulet. How has he been looking in practice?

JF: Mike has been looking really good. He has come back to full training. He had a few months to where he was dealing with some injuries, but now he's healed and healthy and looking really good. I think 170 is going to be a good weight. When he was fighting at 185, he was weighing less than 185 the day of his fights. Now he's dealing with cutting weight and I think he'll be a lot better off.

PC: Good luck! I look forward to the fight. Is there anything you want to say in closing?

JF: Check out the website. I had it redone. Fitchfighter.com. I'd like to thank Toe2Toe.tv for being a good sponsor and helping me out and Jigsaw designs for doing my new website.
[ Follow Percy Crawford on Twitter @MrFighthype ]