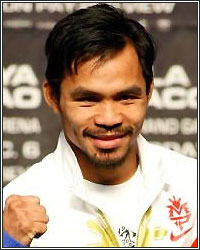 According to Dan Rafael of ESPN, pound-for-pound champion Manny Pacquiao has officially signed a contract to face undefeated Floyd Mayweather Jr. on March 13. Originally, it was reported that both sides had agreed to initial terms, but there were still some wrinkles to be ironed out, including the weight and the size of gloves for the bout. Apparently, those details have been resolved, at least on Pacquiao's side, as the Filipino icon put pen to paper to close his side of the deal.

According to Rafael's source, both camps agreed to a 50/50 split, despite both sides initially demanding more. Of course, with an astounding $80 million purse on the line, it should come as no surprise that both men quickly put their egos aside for an equal share of the bounty. Given that most experts believe that the bout could break the pay-per-view record of 2.44 million buys, there's a good chance that they could earn even more.

As for the weight, although there were initial reports that Team Mayweather wanted the bout to take place at 154 pounds, both fighters will indeed meet at the welterweight limit of 147 pounds for Pacquiao's WBO title. They will also be wearing 8-ounce gloves, as opposed to 10-ounce gloves as initially reported, but both men will be allowed to choose their brand, which likely means Reyes, the traditional "punchers" glove, for Pacquiao and Grant, another "punchers" glove preferred by slick boxers, for Mayweather.

Being the undefeated fighter, Mayweather's name will come first in the billing, so all promotional material will be referred to as "Mayweather vs. Pacquiao." With the highly-anticipated showdown taking place in less than 4 months, there will be no multi-city promotional tour. Instead, there will only be one press conference, likely on January 11, to be held in New York. Although the location of the bout has yet to be determined, the Superdome, Dallas Cowboys Stadium and MGM Grand are all still in consideration.

Now that Pacquiao has signed his side of the contract, the only thing left is for Mayweather to finalize the deal with his own John Hancock. It appears the biggest fight of the decade is just one pen stroke away from becoming a reality.
[ Follow Ben Thompson on Twitter @fighthype ]