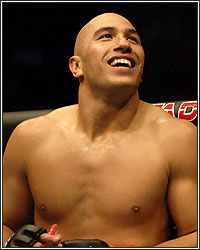 Popular UFC heavyweight contender Brandon "The Truth" Vera, who's been on the shelf for the past eight months due to management issues, recently informed FightHype.com that he's close to making his return to the Octagon and he's eager to know who the fans would like to see him fight next. Now's your chance to voice your opinion. Place your vote and let "The Truth" know who you'd like to see him face next.

Andrei Arlovski – An intriguing matchup as Vera would be coming off of an extensive layoff while Arlovski has not looked to impressive in some of his more recent fights. This is the fight that a lot of fans were wanting to see prior to Arlovski's poor showing in his rubbermatch with Tim Sylvia. I can't see this fight going to the ground so it could make for an interesting stand-up war?

Tim Sylvia - The guy Vera was originally lined up to face before his legal problems with the UFC took a turn for the worst. Although Sylvia has lost the title, it's still an interesting fight since the UFC doesn't seem to know what to do with either man. This fight seems to make perfect sense as both men need to reestablish themselves with the fans.

Mirko Cro Cop/Cheick Kongo winner - Either guy fighting Vera is a win-win situation for the fans. Cro Cop is the more established of the two, but Kongo, with the help of Juanito Ibarra, could prove his worth with an upset at UFC 75. Some fans felt as though it was Cro Cop who ran Vera out of the UFC. To that, Vera emphatically states, "I asked to fight him first!" Regardless of who wins between Cro Cop and Kongo, Vera could test his Muy Thai knees and kicks against either one of these dangerous strikers.

Randy Couture/Gabriel Gonzaga winner - Some of you are probably thinking that Vera hasn't done enough lately to warrant a title shot, but keep in mind that he was originally set for a crack at the title before his departure. Although it's unlikely that Vera would get a crack at the title after such a long layoff, a fight with either guy would be very interesting. Both Couture and Gonzaga would test Vera's ground skills and Vera would test their clinch skills.

Chuck Liddell - Vera has been calling out Liddell since his first fight in the Octagon. He recently stated, "If Rampage didn't beat him, I would fight him immediately!" This is clash that could definitely be made since Liddell has shown interest in fighting at heavyweight in the past while Vera has stated that he could drop down to light heavyweight.

Heath Herring – Herring is beginning to look more and more like a gatekeeper; the safest fight for anyone that the UFC wants to bring back or debut. As we saw against Imes and Nogueira, he doesn't seem to have that killer instinct. Far from an intriguing matchup, this fight serves more as a tune-up to get Vera's feet wet again in the Octagon. Although all the other fights look more appealing on paper, Herring is probably the more logical and probable choice for a Vera comeback fight.

These are just a few opponents that I felt would be interesting fights for "The Truth's" comeback. Although it's unsure as to whether or not the UFC will give Vera a tough test in his comeback, one thing is clear…I, for one, am ready to see him back in the Octagon! So vote today and let Vera know who you'd like to see him face next.
[ Follow Percy Crawford on Twitter @MrLouis1ana ]