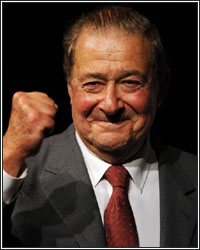 Not so fast Richard Schaefer. According to Bob Arum, the clock is ticking and the highly-anticipated clash between Floyd Mayweather Jr. and Manny Pacquiao is knocking on death's door! "Schaefer is making it up," Arum would tell Michael Marley of Examiner.com as he disputed recent comments made by the Golden Boy Promotions CEO regarding the current state of negotiations.

Speaking to Dan Rafael of ESPN, Schaefer revealed that Mayweather has backed off of his demands for the US Anti-Doping Agency to perform Olympic-style drug testing and is now willing to allow another agency to handle the procedures provided that the tests are still random. According to Schaefer, Top Rank president Todd duBoef and Golden Boy executive Bruce Binkow are currently negotiating a final cutoff date for those random tests to occur and assuming both sides can reach agreement, then the highly-anticipatd bout will still take place.

Arum, however, disagrees. Speaking to Marley today while on vacation in Cabo San Lucas, Mexico, the hall-of-fame promoter says Schaefer is not telling the truth when it comes to the issue of drug testing. "It is not true, it is just not true. He is making this up now because he looks bad," Arum emphatically stated. "He is making this up because he is trying to justify it to Mayweather. Let's see if he can justify it to Mayweather why this fight is now dead."

Despite the fact that the Nevada State Athletic Commission does not require any type of blood testing prior to or after fights, Pacquiao had initially agreed to three blood tests: one given in January during the week the fight is formally announced, one thirty days from the fight, no later than February 13, and the final one immediately after the fight in Pacquiao's locker room. Unfortunately for Mayweather, that agreement was three days ago and now, enough has evidently happened between the two sides to make Arum and Pacquiao's camp change their mind about blood testing altogether.

"Manny will do a blood test, as required, to get his new boxing license in January per the Nevada commission. Manny will also do another blood test after the fight. End of story," Arum stressed to Marley. "If they do not agree to this, then that's the end for Mayweather as far as Pacquiao is concerned. Then Mayweather will never, never fight Manny."

Arum has given Mayweather's camp until Tuesday of next week to accept their final proposal. Ouch! Call me crazy, but at this point, it's almost starting to sound like both Arum and Schaefer are letting their disdain for each other get in the way. Although there's no doubt that both fighters are willing to face each other, you have to wonder if maybe the promoters themselves have other plans for both fighters all along. Hopefully, they will put their personal feelings aside in the next couple of days and do what's best for the fighters, the fans and boxing general. For once, don't let the casual observer say, "That's why I don't watch boxing anymore. The best never fight the best!"
[ Follow Ben Thompson on Twitter @fighthype ]