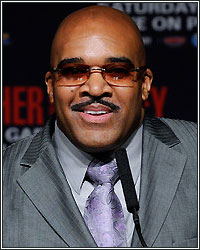 "Random is random," Leonard Ellerbe, Mayweather's advisor, reiterated to me earlier today. "Random is random. The whole purpose of doing something random is for surprise. We're not backing off," he continued as Team Mayweather remains firm on their stance for random blood testing in the weeks leading up to a showdown with Pacquiao. Despite Arum's final offer of letting the blood-testing issue be handled by the Nevada State Athletic Commission, Team Mayweather insists that is not an option.

"With all due respect to the Nevada commission, Keith Kizer has publicly gone on record and said they wouldn't be able to handle this particular issue at this particular time," Ellerbe would tell David Mayo of The Grand Rapids Press. Golden Boy Promotions CEO Richard Schaefer would echo those sentiments as he explained that, much like the decision for the weight and the purse split, the issue of drug testing should be decided by the fighters themselves, without the involvement of any commission. "It does not make sense for this to become a commission matter," Schaefer would tell Kevin Iole of Yahoo! Sports. "This is a contractual matter. The commission did not decide the weights or the purse split or how the foreign television rights would be sold."

With Bob Arum's deadline fast approaching, both Ellerbe and Schaefer say they remain committed to getting a deal done. "Our focus is on making a deal," stated Ellerbe. On the other hand, Arum has already begun working on a backup plan, a fight with former jr. welterweight champion Paulie Malignaggi. "If this is Bob's final ultimatum, then that's what it is," added Schaefer. "That is his decision if he wants to take that position. I very much hope this fight can be made, but the reason it is at a standstill is because of the way they have handled things."

As each hour passes, the likelihood of this fight taking place looks dim. What will we awaken to on Tuesday morning? Will Pacquiao vs. Malignaggi become a reality and replace the biggest fight of this decade? If so, will that be a pay-per-view event? And who will Floyd target should a fight with Pacquiao fall through the cracks? There will be a lot more questions to ask and plenty of blame to go around should this fight not come off.
[ Follow Ben Thompson on Twitter @fighthype ]