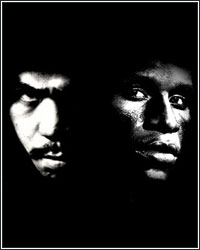 Just when you thought negotiations couldn't get any crazier for the highly-anticipated clash between Floyd Mayweather Jr. and Manny Pacquiao, they just did! When both sides reached an impasse regarding Olympic-style random blood testing, footage from an episode of HBO's "Pacquiao/Hatton 24/7" surfaced showing Manny Pacquiao giving blood in the weeks leading up to his May 2nd. Although Pacquiao has maintained that he's only willing to do a blood test 30 days before and one day after the fight, this new development has both sides continuing with negotiations despite today's deadline and the "take-it-or-leave-it" ultimatum that Arum issued over the weekend.

On Saturday, Pacquiao himself released an official statement explaining his reluctance to comply to random blood tests leading up to the fight. "The truth is taking blood out of my body does not seem natural to me and mentally I feel it will weaken me if blood is taken from me just days before the fight. That does not make sense to me why anyone would do that," the statement revealed. That being said, the footage shows that he's had no problems in the past giving blood close to fight time. The question now becomes how close to the fight was that footage taken?

"I will transmit it [information regarding the footage] to Manny once Ross Greenburg establishes the actual date of the test in '24/7' and [the Mayweather camp] makes a proposal based on what Ross has come up with," Arum will tell Dan Rafael of ESPN.com earlier today when he was made aware of the footage. "If that happens, I am sure I can convince Manny." Schaefer would echo those sentiments, "I need to discuss it with Team Mayweather. We need to find out what it means if you cut off testing 14 days before the fight. I want to talk to Al Haymon and Leonard."

It's unclear as to who finally pointed out the video to both sides, but whoever it was, THANK YOU! For days, that footage has been posted on numerous internet boxing communities and a lot of fans were wondering why it was never brought up during all the back-and-forth regarding blood testing. "It's a very good point to point out that Manny was tested so close to the [Hatton] fight," Arum added. "I will bring it to Manny and say, 'Manny, look, you took this test however many days before the fight and it didn't affect you. Hey, you knocked him out in two rounds.'

Obviously, Arum isn't making any promises, but it's another step in the right direction to getting this fight back on track.
[ Follow Ben Thompson on Twitter @fighthype ]