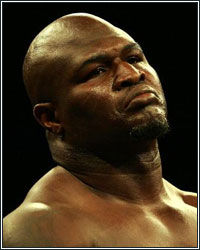 If there was any doubt about the seriousness of James Toney's desire to fight inside the Octagon, fans should look no further than cageside tonight at UFC 108 in Las Vegas. "I just spoke to Dana again. I'm out here in Vegas for this event. He's sending me some tickets and I guess we will sit and hang out later. They doing a lot of talking, but when are they going to get me in there," stated the NABO heavyweight champion and future Hall-of-Famer.

Last month, Toney literally went on an all-out hunt for UFC President Dana White in Memphis, Tennessee when he attended UFC 107. The two finally met up and swapped information. Since then, Toney has been extremely vocal about facing UFC legends Chuck Liddell and Randy Couture. He also put in a bid to face UFC newcomer and street fighting legend Kimbo Slice. Moments ago, Toney reiterated his plans to Fighthype and appears more than eager to fight, whether it is in a cage or a ring. "I'm ready to go! If it's in a cage…fine, if it's in the ring…fine. They trying to wait for me to get old and grey, but I got longevity baby. I will fight anywhere and either way, cage or ring, I am the master of ceremony," he continued.

Toney also took the time to take a shot at fellow boxer Shannon Briggs, who is also rumored to be trying to make the jump over into MMA. "Old shitlocks himself is trying to follow my footsteps. It doesn't matter because he doesn't have any heart. It may be perfect for him though because alls he likes to do is hold. I want to put hands on motherfuckers. Briggs will get beat and fake an asthma attack like he always does," Toney added.

UFC 108 will take place live tonight on PPV from the MGM Grand in Las Vegas, Nevada. The main event features light heavyweight contender Rashad Evans taking on Thiago Silva.
[ Follow Percy Crawford on Twitter @MrFighthype ]