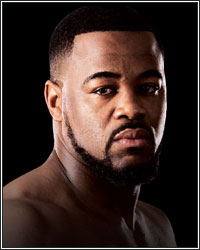 "People want to see what they want to see and it was hard for anybody to talk about anything else but the Rampage thing. It was so built up on the show and the whole drama of what happened afterwards is going to make the fight that much bigger. It's going to make the fight that much bigger than if we would have originally fought… it wasn't no bullshit man and it's too bad we don't get along. The spotlight don't belong to anybody man. There is enough for everybody and it's too bad we don't get along, but you know what man, we don't need to get along to be honest. We're competing for the same prize," stated former UFC light heavyweight champion Rashad Evans as he talked about a future showdown with Quinton "Rampage" Jackson. Check out what else he had to say about his recent win over Thiago Silva at UFC 108, his future plans and more.

PC: Congratulations on the win. I'm sure you didn't expect for it to be easy. What did you think of your performance?

RE: It was an important performance because I stuck with my gameplan and once you've been fighting a certain way for so long, sometimes it can be difficult to get away from old habits. So that was one of the important things was to get away from old habits and create some new ones and be confident doing it.

PC: One noticeable thing to me is that you didn't have Mike Winkeljohn in your corner. You had my man Trevor Wittman there. Was that something else that you had to adjust to during the course of camp and during the fight?

RE: Yeah, yeah. That was a big adjustment, going from Mike Winkeljohn to Trevor Wittman. We are all a part of the same team, but it was a little different because everybody's got their own style and their own stuff. But it was just different because there was some things Trevor wanted me to work on and it was hard because of the circumstances that Mike Winkeljohn wasn't able to be a part of the camp. He lost his eyeball so…

PC: I heard something about that. Was it a pad incident?

RE: Yeah, he was holding the pads and got kicked and, um, lacerated his eye open (getting emotional).

PC: And it's not to take anything away from Trevor's style, but it is an adjustment when you switch trainers.

RE: Yeah, it was different man, but it was good working with Trevor because we had a good relationship previously, so going into camp, it kind of made the transition easy. And Trevor is easy to work with and he's got some good stuff, you know?

PC: No doubt about it man. We saw your wrestling ability, which we hadn't seen for awhile. Was that the gameplan because you knew you were the superior wrestler or because you didn't want to mess around with Thiago's power?

RE: It was something that we wanted to implement and get back to what I do. I can stand and bang with everybody, but I'm a wrestler and it's important for me not to lose sight of that. I can't lose sight of the fact that my background is wrestling and that's what I need to do.

PC: I was surprised that he was able to escape your mount and side control a few times without suffering much damage. Were you surprised by his ability to get off of his back?

RE: Yeah, he kept moving and honestly, it was some mistakes that I did on my part. My positioning wasn't flawless, you know what I'm saying? I was too loose and my hips weren't tight enough and it was just some things that I wish I would have done better that would have made it easier once I got him down and I wouldn't have had to take him down over and over again. But it worked because I pressured him a lot and he did have to work to get back up and it took a lot out of him.

PC: You looked fairly fresh after the fight. Even though you had got rocked, he was clearly the more fatigued fighter. Did training in Colorado in the thin air help your stamina as opposed to training in Albuquerque?

RE: It did help me out a lot to be honest. We train in New Mexico at elevation as well, but it helped me out a lot man. I was in good shape man and training like that, day in and day out with good training partners had me ready for whatever was going to come.

PC: Many people felt this was a trap fight for you because you were so on edge to fight Rampage and once that fell through, it's almost like you had to settle for Silva. Was motivation a problem for you or do you consider everyone a threat at this stage of the game?

RE: It wasn't about the opponent, to be honest, it was more about me getting back to me and what I do and what I do well. This fight was most important to me and I see everybody like, "Oh, he got caught in the 3rd round and there is a big question mark. He won, but he got caught." It's a fight man and you never know what's going to happen inside of those 15 minutes when you get in there and sometimes you sustain a little punishment and sometimes you don't. I got caught at the end of the fight, but I was able to maintain my composure and make it through without getting my head knocked off.

PC: Fortunately for you, 45 seconds doesn't win fights in the UFC.

RE: Exactly! I think so too man. It just bothers me that I kind of got lazy and I lost focus. It's not that I was even tired; I just got lackadaisical and really comfortable out there. He really hadn't hit me with nothing with his hands all fight, so I didn't think he had the power to do so and then he got that sneaky right behind that left and it caught me pretty good man. But I was able to…it's like when you get caught with a good shot like that, you're not able to feel like anything happening to you until you try to move and it feels like you just got off of a Merry Go Round and you try to go run. That's what it felt like. I was like, "Oh shit, my legs are messed up."

PC: At any point in your mind, were you thinking, "Oh shit, the Machida situation again."

RE: When I started moving and feeling all messed up, I was like, "Aw no, not this shit again." (Laughing) I was like, "Not this shit again. No way."

PC: I heard Trevor screaming to you, "forward and under, not backwards" and I take it that was his way of saying for you to duck punches instead of going straight back and that's when he caught you. Was that just a mental lapse?

RE: It was a big mental mistake man and that's something that we had long got out of during camp, but sometimes man, them old habits just come back. As long as I was moving forward and had my head movement going, he didn't show any signs of offense the whole fight. I pretty much shut him down in every single place and then I started backing up and I got caught at the very end of a punch.

PC: You had some explosive takedowns and made it look easy. How did it feel to get back to your wrestling? Did it feel like you had never stopped doing it or was it something that surprised you that you were able to have so much success doing again?

RE: It just felt like I never stopped doing it. My timing felt great going into my shots and penetration. I felt I was getting in when I wanted to and felt I was keeping him guessing and not knowing what I was gonna do. Everything was going well. I just need to brush up a little bit on the ground and kind of calm down and not be so excited when I get somebody down. I just got so excited and he was squirming and moving and I just wanted to get the finish. But the problem is when you get somebody on the ground, what you want to do is slow things down and hold your position and then work to another position and hold that one. All of the stuff that you're supposed to do in Jiu Jitsu that I know you are supposed to do, but when you're out there, you get excited. I got mount the first minute of the fight and I was like, "Holy shit! How did I get the mount so fast?" It's just something that happened, you know?

PC: Congratulations on receiving your BJJ Black Belt right before this fight. I have never seen you attempt a submission before, but obviously you train in it and it's gotta feel great to have that in your back pocket?

RE: It means a lot to me. I've been working with Roller and Renzo and those guys and it's been good man. I want to continue to grow and not just have it under my belt. I want to excel in it and as far as going for submissions and stuff like that, it's definitely something I need to do once I find the opportunities when I go to the ground, so I don't have to work as hard. It's a part of growing to be a better fighter all together. For me, I am a wrestler at heart; that's what I do. I am a wrestler and sometimes I start thinking wrestling position, wrestling position. You just think wrestling sometimes, but it's going to come where I start mixing it up and going for submissions and stuff like that. It just takes some time.

PC: I think you spoiled some people with the Liddell and Griffin knockouts.

RE: It's just funny man, sometimes the fans can just…they want what they want out of certain people and they will accept it out of certain people, but from some people, they won't. How many fights have you seen GSP take someone down and do a little ground and pound and then get back up? Like in the Thiago Alves fight. And Georges worked hard, but you never hear people boo. You never hear any of that stuff, but when I do it, they boo. I guess that's just how it works out, but it is what it is.

PC: On the flip side, if you were taunting and showboating half as much as Silva was in that fight, they would have crucified you.

RE: I tell you what, if I would have done what he would have done, oh my goodness. They would have been like, "I knew he didn't change from The Ultimate Fighter. I hate him again." Sometimes I just feel like I'm just destined to be the bad guy in people's opinion. I don't know what it is about me or my fighting style, but everybody seems to be…I don't know man, they just got a lot of hate towards me. It is what it s because I still have a lot of fans.

PC: Not only were you coming off of your first loss, but you were coming off of being knocked out for the first time. How did you feel entering the cage coming off of those circumstances and coming off a fairly long layoff because of TUF?

RE: I felt like I had been away from it for a little too long. I knew I would find my rhythm once I got in there, but I went in there and it was like, "It's been a long time." it had been a very long time and I felt like I had a little bit of ring rust, but I tried to go out there and push the action and push the pace of the fight and hopefully something good would happen. I wasn't looking for one thing, but just anything to happen to let the fight develop and take form and that's what I tried to do. But having a long layoff, the Ultimate Fighter thing and the Rampage distraction was difficult. It's difficult when you're going into a fight and nobody is talking about your performance. It's hard to really…honestly, even though you tell yourself over and over again that you're going to focus on your opponent, but at the same time, everybody else is looking at your next fight and overlooking this one. It gets to the point where you start thinking, "I just gotta make it through this fight," you know what I'm saying, and that's not where you want to be when you got somebody that wants to separate you from consciousness standing across from the cage from you. And it's no disrespect to Silva, I think he's definitely a worthy competitor and he fought a good fight on Saturday, but people want to see what they want to see and it was hard for anybody to talk about anything else but the Rampage thing. It was so built up on the show and the whole drama of what happened afterwards is going to make the fight that much bigger. It's going to make the fight that much bigger than if we would have originally fought because people are going to be like, "Now I really want to see this shit."

PC: It appears Rampage is the next fight. You are coming off of a much needed win. Do you think him being on a movie set all of this time could affect him as a fighter?

RE: It may man, but I'm not going to count on anything to think that I'm going to have the upper hand. I'm going to let his mental hurdles be his mental hurdles. Provided we do get the opportunity to square off, then I'm going to find out right away, but I don't want to fall into the trap of saying how he might be because I don't want to start thinking like that. It is the worst thing in the world to go out there and find out the contrary to what you believe.

PC: It was genuine hate on the show between you two guys man.

RE: No, it wasn't no bullshit man and it's too bad we don't get along. The spotlight don't belong to anybody man. There is enough for everybody and it's too bad we don't get along, but you know what man, we don't need to get along to be honest. We're competing for the same prize. It's good to be able to go into this fight to have that monkey off of my back. To have that loss off my back because, you know…and that's one thing people don't understand is how difficult it is to go in there and fight like nothing has ever happened. Shit my last loss was in that same damn arena, same damn cage and everything (laughing), you know what I mean? It's difficult man and anybody that says it's not difficult, they're not being fully honest with themselves. It's very difficult to go in there after you just got the fuck knocked out of you, and you just got knocked out, to go in there and act like nothing happened. There is going to be a red light in your head, even when you're warming up, like, "Oh shit, what if that happens again?" Just that little slight hesitation could be the difference when you're out there fighting. It's like I want to go out there fresh, but at the same time, you are thinking you would be a fool to go out there and get caught. When he was doing all of that taunting and stuff, I was like, for one, I knew he was dead tired and exhausted and he wanted to bait me into trying to go toe to toe and slug it out and for two, there was no need for it from me. He had his arms up saying, "Come on." But you're losing this fight buddy; I'm not losing. All of that energy he had jumping around and bobbing his head, he could have come and brought it to me. How smart would that had been for me to go out there and take a risk when I had just got rocked earlier that round? So I wasn't going to go in there and slug with this dude and I wasn't even sure if my faculties and nervous system had caught up yet and rebooted. When you get caught, it's not just about your mind being into it, but although you feel a little bit dizzy, your mind is the last thing to leave you. It's your nervous system. How fast are things going to your brain? Is everything moving on the same page? If you get hit again, is it going to shut out that much faster beyond your control? I'm all about playing for the dramatics and giving the crowd what they want, but at the same time man, this was a fight that was very important to me to get back and I didn't want to squander it by being foolish in the last 40 seconds because he wanted to slug it out.

PC: And Silva wasn't a guy that you really had to worry about submitting you. He's known for putting guys where you had gone in your previous fight, so I definitely think you had to fight smart.

RE: Yeah and the thing about it is he had like sneaky power. Everybody talks about how powerful he is, but honestly, when he was hitting me early in the rounds, I didn't sustain one blow where I thought it was a good shot. I didn't feel like he had that much power in his punch and then he caught me with that shot and I was like, "Oh shit, he does have a little power." He does have a little bit of power man and those are mistakes that I'm going to learn from and get better. It just makes me hungrier and makes me want to strive and do that much better because of that and that's where I'm at with it because I can sit here and analyze and be upset with myself for getting caught or I can say I'm glad that I got caught because now I realize what position made me vulnerable. It makes me realize what I need to do when I'm in training camp, so that will never happen again.

PC: We've seen Matt Hughes and Matt Serra show love to one another after they fought after some very bad blood. Are you kind of hoping that you and Rampage can be cool after you guys get it on inside of the Octagon?

RE: Yeah, you know, I do man. The thing about it is at the end of the day, we're both on the same journey. We're both fighters fighting for the greatest organization in the world, we're both fighters trying to build the sport into one of the best sports in the world and being able to share this stage with him and this piece of history, because I know it's going to be the biggest pay-per-view ever and the biggest UFC ever, so to be able to share a stage and history with him is something that we will forever be bonded by. It's like Ali-Frazier. At the end of the day, all bullshit aside, all hardships and fighting tough guy shit aside, you want the best for the guy. I want the best for the guy. I don't want to see anything happen to the guy. If ever the day comes after all of this fight shit is over that we can be cool, that would be cool man. You get in there and you fight somebody and you give it your heart and you give it your all, you have nothing but respect because you know they did the same. I'm sure when we get in there and we fight and we go toe to toe, it's not going to be nothing but respect afterwards.

PC: I'm hoping for the same man. I like both of you guys and once you settle your differences, I would like to see you guys be cool with one another. Congrats again on the win my man. Is there anything you want to say in closing?

RE: Nah man. I just want to thank my fans and all of the people that supported The Ultimate Fighter season 10 and making it the best season. Everybody that supports the sport of MMA as it continues to grow and become the best sport out there, I'm just happy I can be a part of it man. I was trying to put that peek-a-boo style on they ass man. I wanted to go out there and be exciting, but sometimes, you go out there and you try too hard and it doesn't flow like you want to.
[ Follow Percy Crawford on Twitter @MrFighthype ]