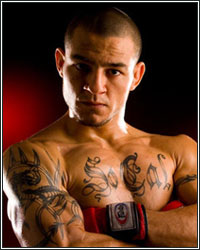 WEC featherweight star Cub Swanson will put his 11 fight winning streak on the line against his toughest, most experienced opponent when he takes on former UFC lightweight champion Jens "Little Evil" Pulver on September 5th. Check out what Swanson had to say as he talks about his training for Pulver and what to expect when the two meet as he's confident the fight won't make it out of the first round.

PC: How have you been doing my man? It's been a while.

CS: I'm good man. I'm training hard and looking forward to the fight, you know?

PC: How do you feel about being chosen as Jens Pulver's first WEC opponent?

CS: I feel honored. He's been great for the sport. Very exciting fighter, very well-known and I feel like I knew it was a matter of time before my name crossed paths with someone like him, so I'm honored.

PC: How is preparation going for this fight and how long have you been training?

CS: I actually had been training probably about 4 weeks already. I have all the way until the fight, so it will end up being like 7 or 8 weeks of training.

PC: Jens feels like he knows exactly what you want to do against him because he's seen you do the same thing against other southpaws. He also feels like one left hand could put you out. What do you say to that?

CS: I feel like, of course he's going to do his gameplan and he's going to prepare for what he thinks I'm going to do and counter that. I'm training to do the same thing. I know exactly what he's trying to do and that's cut off my angles and work the way that southpaws do. I know what he's planning on doing and he knows what I'm planning on doing. It's whoever is going to execute the best. That's basically it.

PC: Everyone has their own myth about fighting southpaws. Are you comfortable fighting southpaws?

CS: Oh yeah! I've been fighting so many standard fighters, but I've fought some southpaws so I'm not too worried about it, but there have been some things that I have to get used to. I've been sparring some good guys so I feel like I'm coming along well. I definitely feel like there has been a jump in my game compared to when I started to where I am now. I know it won't decline. I will continue to get better.

PC: How do you plan on making your youth work towards being better than his experience?

CS: I have to push the pace. With me being young, of course I want to push the pace and try and be all over him. I want to overwhelm him, but that's kind of the way I always fight. That could definitely be a factor if it goes to the later rounds.

PC: This is the biggest fight of your career and some fighters pace themselves and fight a little differently under the circumstances. Will we get the same exciting Cub?

CS: I think it would be stupid of me to change. I feel like if I try to change, it would be like when Loiseau fought for the title against Rich. Everyone was saying how good he was and then he fought for the title and he completely changed his style. He didn't look comfortable and he was very timid. If he would've just came out and been himself, he would've done a whole lot better. I feel like I just need to be myself. I can't let him or anybody else get into my head and tell me, "I need to do this or that." I just need to be me and execute.

PC: In his last 2 fights, he lost by KO and submission. How important is it for you to jump on him and make him remember those last 2 fights?

CS: It's very important. Him coming down to 145, he will feel like he has an advantage. That's going to be a confidence builder for him, but once I'm all over him, he will remember his losses.

PC: Who told you that you would be fighting Jens Pulver in September?

CS: My manager let me know like a week or so before he fought BJ. I was being asked if that was something that I would like to do and I said, "Of course!" I wanted to see the fight with him and BJ to see how he looked and after the fight, it just made me more sure that I wanted to fight him. Especially after fighting BJ and going into the second round with him, it's going to be even better when I beat him because it won't go into the second.

PC: What's your prediction for this fight? Do you think you can stop Pulver in 1 round?

CS: Yeah, I think it will end early. I very highly doubt it will go to a decision. Neither one of us wants it to go there and I feel like it will end in the first round. A lot of people I talk to feel like it's going to end in the second, but I think it will end in the first.

PC: Would you want to take him to the ground and submit him or will the satisfaction come from a knockout?

CS: I would love to bang with him. To knock him out will only make me bigger. If I submit him, it's just going to be like, "Good job!" I'd like to stand and bang with him. If it ends up going to the ground, cool! I'm just going to do whatever I do. I'm not going to say I'm strictly on one thing.

PC: What do you think Jens at 32 years old has left as a fighter?

CS: I think he has a ton of fights left in him. He obviously wants it. I'm hoping that I fight as long as I want to. It's all about the drive that makes the body tick just a little bit harder. He's a well conditioned athlete, especially making 145. He will be in shape. I'm sure he doesn't want to fight too much longer, but I'm sure he wants to try and get the 145 pound title. If that's the case, he must be thinking a couple of more fights at a minimum.

PC: Do you think this will be fight of the year like fireworks?

CS: It could be, but it will be hard to top the fight between me and Micah Miller. That was an awesome fight and I'm honored to be in that fight. That's going to be a tough one to beat.

PC: Always a pleasure Cub. Is there anything you want to say in closing?

CS: I appreciate you having me on. Always do. Thank my fans for their continued support. I appreciate it a lot. It's been a long hard journey for me and I appreciate it every time someone writes to me on myspace. I'm excited to be where I'm at and keep spreading the word that I'm coming. I'm coming for the title. If anyone wants to get a hold of me, cubswanson.com just went up and you could get a hold of me on myspace!
[ Follow Percy Crawford on Twitter @MrLouis1ana ]