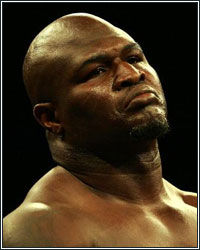 NABO heavyweight champion and future Hall-of-Famer James "Lights Out" Toney recently reached out to FightHype.com to inform us that talks with UFC President Dana White regarding a possible debut inside the Octagon were not going so well. "Dana White's first offer was a joke and that let's me know he really don't want to do this," stated Toney, who confirmed that an offer was indeed made.

Although he did not reveal the offer that was made, Toney made it clear that the two sides are light years away regarding compensation. When reminded that the payouts for a mixed martial artist aren't quite as generous as the purses in boxing, Toney replied, "I know that, but this offer was laughable. That's the reason I wanted the camera guy in the room with us when I sat down with Dana, so the fans would know that I was serious and if it didn't happen, it wasn't because of me."

Toney has literally been on the hunt for White since UFC 107, where he first tracked him down and initially revealed his desire to step inside the Octagon. Toney would again track White down at UFC 108 in Vegas, where the two finally had a sit down and appeared to begin serious discussions. Evidently, those talks actually led to an offer, but one that Toney laughed at.
[ Follow Percy Crawford on Twitter @MrLouis1ana ]