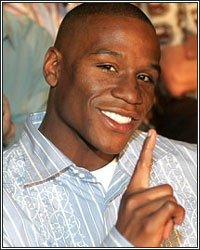 According to multiple sources, the long-awaited showdown between WBA welterweight champion Shane Mosley and undefeated Floyd Mayweather Jr. is virtually a done deal. Golden Boy Promotions was already reserving May 1 and May 8 for future bouts, but it was unclear as to which date they were targeting for the proposed matchup. That was until this evening when, apparently, UFC President Dana White received word that Mayweather vs. Mosley will indeed take place on May 1. The news prompted White to take action and he decided to reschedule UFC 113, which was originally set to take place on May 1. In order to avoid going head-to-head with a boxing event of that magnitude, UFC 113 will now take place the following weekend on May 8.

"We were trying to not go the same night as boxing, but these fucking guys can't get out of their own way. I have never seen anything so unorganized, selfish and dysfunctional as boxing. It's a joke," the UFC President would inform Steve Cofield of Yahoo! Sports. Although White is clearly irritated, the decision is a wise one.

The last time the UFC went head-to-head with a Mayweather bout was on September 19, 2009. After a long retirement, Mayweather returned to face Juan Manuel Marquez on the exact same day as UFC 103. In the end, it was Mayweather who came out on top, pulling in an impressive 1 million PPV buys compared to the UFC's 400,000 PPV buys. "Bottom line, we did a good number and we still got our asses kicked," White admitted at the time. Clearly, that's something that he hasn't forgotten, as the decision to move UFC 113 to May 8 would not have been made unless White recieved confirmation on the date for Mayweather's next bout.

Furthermore, Bear Richardson, the son of Shane Mosley's trainer Naazim Richardson, recently revealed on his Facebook page that he, along with the rest of Team Mosley, would now be helping Shane prepare for a May 1 showdown with Mayweather. His status update read, "AT SUGAR SHANE MOSLEY CRIB! ME,SUGAR SHANE,DYNAMITE,SHARP,BIGFOOT,STEVE,BRO NAAZIM. SHANE N BERTO FITE WAS CANCELED SO NOW WE GETTIN READY FOR SHANE VS. MAYWEATHER MAY.1ST N VEGAS!"

Out of respect for Andre Berto, who pulled out of his scheduled January 30 title unification with Shane Mosley due to the catastrophy in Haiti, there's no doubt that both sides will continue to say that negotiations are "ongoing" to avoid looking like they're taking advantage of the situation. However, given the fact that this is the fight that Mosley has been hoping for all along, there were practically no obstacles in the way of finalizing the deal in the first place. When they actually do decide to make the official announcement remains to be seen, however, rest assured, the announcement is coming. Barring any unforeseen circumstances, expect Mayweather vs. Mosley to take place on May 1...and if it doesn't, expect UFC President Dana White to drop some more F-bombs.
[ Follow Ben Thompson on Twitter @fighthype ]