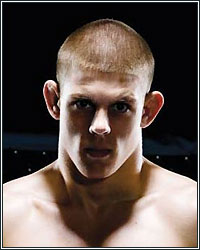 FightHype.com brings you closer to the fighters with this unique series. Go beyond the hype to find out what makes your favorite fighters tick. From hobbies & interets to childhood heroes, you'll get an inside look at their life outside of the ring/cage. So without further ado, get to know UFC lightweight contender Joe Lauzon.

NAME: JOE LAUZON

ALIAS: J-LAU

LIGHTWEIGHT CONTENDER

---
Favorite movie(s)?
Right now...I have to go with 300. I've seen the movie maybe 15 times and it's just filled with one-liners and action scenes. I used to watch Gladiator before my fights to get amped up a little bit, but I think 300 might have taken its place.
Favorite TV show(s)?
I didn't watch a whole lot of TV until I got the Digital Video Recording service. For the past 7 years or so, I have always made a habit of training during prime TV times. I missed a TON of TV until I had DVR. Now I am a junkie for a few shows. I watch Nip Tuck, The Shield, Heroes, Family Guy, South Park, Dirty Jobs, and CSI. I was watching the Ultimate Fighter before I was even on the show, so that's a favorite too.
First car that you owned?
My first car was actually a small pickup truck. I had a red 1991 Ford Ranger.
Celebrity crush?
Eh, I sat here thinking for a few minutes and couldn't think of anyone in particular.
Musical preference?
I listen to all kinds of music. Looking at my iPod, some of my favorites are: Incubus, Skillet, Red Jumpsuit Aparatus, Trust Company, Thousand Foot Krutch, Trust Company, Mims, Nine Inch Nails, Adema, Jimmy Eat World, Ra, Linkin Park, Outkast, Braking Benjamin, Papa Roach, Earshot, 10 Years, Fort Minor, Mudvayne, Cold, Disturbed, The Whiskey Poet.
First job?
My first job was working for my dad. Our family business is in the fishing industry. We sell wholesale to all of Cape Cod and have a retail store (J&J Bait and Tackle) in Brockton, MA. So I worked there since I was little, loading and unloading trucks for deliveries, working in the store behind the counter, repairing broken fishing reels, cleaning tanks and all kinds of other tasks.
Favorite animal?
I want to get a Wallaby. It's a miniature Kangaroo. I think it would be cool to have a midget sized Kangaroo running around trying to kick down doors.
Favorite food/meal?
I absolutely love food. I eat like a fat kid. That being said, I think my favorite meal is Chicken Broccoli and Ziti with Alfredo sauce.
Favorite junk food?
Ice Cream Cake. It's the best.
Hobbies/Interests?
Outside of fighting and training, I don't do a whole lot. I have been messing around with all kinds of things with computers and the internet for years. I can program in PHP and have made a few news websites. I screw around with Photoshop, messing around with pictures. I like to mess around with video editing too. I have taken a lot of video footage of myself and made some highlights over the years as I progressed.
Childhood hero(es)?
Then and now, it's gotta be my dad. The guy is ridiculous and can do anything. Carpentry, welding, plumbing, masonry, electrical work...you name it, he can do it. Through trial and error, he can get anything done with any combination. My dad is the guy that designed and built a deck on my family house, knowing we would be adding an addition a few years later, so the deck was designed in an "L" shape so he could cut it at the corner and rotate it to go along the back side of the addition as well. Amazes me sometimes with the planning he can do all in his head.
Favorite fight(s)?
My favorite fight to watch was Randy/Sylvia. I'm not a fan of Tim at all and seeing Randy put him on his ass was a thing of beauty.
Favorite fighter(s) to watch?
I like watching anyone that comes out aggressive from bell to bell, working for the finish.
Pre-fight ritual?
I don't do a whole lot. I just hang out talking about things completely unrelated to fighting and just relax. If you don't know what you are doing by the day of the fight, talking about it isn't going to help a whole lot. I do the "Lauzon Bounce" for like 2 minutes which is just jumping back and forth arming up my legs and that's about it.
If you could fight any fighter in time, who would it be?
Bruce Lee. Guy was a badass for sure, but I would love to try and double leg and ground and pound him. I think he was way ahead of his time with mixing wrestling and everything else, but being ahead of his time and competing now are two different things. Who knows though, maybe he would 6 inch punch me into submission from the bottom of mount.
If you were a superhero, which one would you be?
Wolverine. Fighters get beat up and injured all the time and rocking that healing ability would be nice. "Oh, I tore my ACL in that fight? No Big deal... give me a few minutes".
Greatest moment?
Every time I tap my brother out. Gotta show him who big brother is.
Most painful moment?
I tore or pulled something in my ribs a couple years ago and it was the worst. Sitting there and just trying to breath was agonizing. I've gotten hurt a lot over the years, but I could always favor or rest things, but there is nothing you can do about your ribs.
Most embarrassing moment?
That time I broke a girls arm while wearing one of those Sumo suits was pretty bad.
If you were not a fighter, what would you be doing?
If I wasn't fighting, I would be an even bigger nerd. I went to school and went the computer science route and would be going with that even further. I haven't been a complete nerd because fighting has always been my first priority, so I was never the super nerd that I could have been. I'm happy with how everything has gone though.
Bonus: Name something that most people don't know about you?
I'm going to be helping my friend with a new line of clothes very soon. We are in the early stages still, but you can get a general feel for the shirts at
http://slayingangels.com/