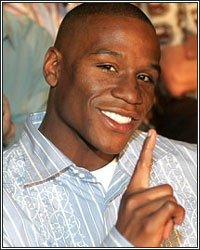 Earlier today, at the 18th annual ESPY Awards, undefeated multi-division champion Floyd Mayweather beat out both pound-for-pound champion Manny Pacquiao and UFC welterweight champion Georges St. Pierre to take home the 2010 ESPY for Best Fighter. Mayweather is fresh off of a dominant 12-round unanimous decision victory over future Hall of Famer Shane Mosley. This will be the third time that he's won the award, taking home the honors in 2007 as well as 2008. Ironically, Manny Pacquiao would win the award in 2009 during Mayweather's retirement.

The ESPY Awards is an annual ceremony that celebrates athletic performances throughout the year. Nominees for each category are voted on and chosen by fans, sportswriters, broadcasters, sports executives, and sports personalities. The winners are then selected exclusively via online fan balloting.

Although the winners are selected by fans, there's sure to be some outrage from the legion of Manny Pacquiao followers. Although Mayweather's lopsided win over Shane Mosley was more meaningful than Pacquiao's victory this past March over Joshua Clottey, who was coming off of a loss, his fans are sure to point to Pacquiao's dominant victory over Miguel Cotto in November of 2009. Not to be outdone, Mayweather fans will cite his easy win over Juan Manuel Marquez in September of the same year. Regardless of who you think should have won, however, boxing fans should be content, as a boxer was once again named Best Fighter in a time when mixed martial arts is gaining more and more popularity.
[ Follow Ben Thompson on Twitter @fighthype ]