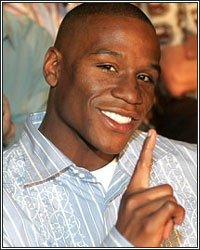 "I'm not really thinking about boxing right now," stated undefeated multi-division champion Floyd Mayweather when asked about a potential showdown with Filipino superstar Manny Pacquiao. Appearing at a charity basketball game in Miami, Mayweather did not seem too eager to field questions about his boxing careers, let alone questions regarding Pacquiao or last Friday's deadline that promoter Bob Arum imposed.

"I'm just relaxing. I fought about 60 days ago, so I'm just enjoying myself, enjoying life, enjoying my family and enjoying my vacation," Mayweather continued, which essentially means "no comment" as far as the negotiations for a November 13 clash with Pacquiao are concerned. Bob Arum recently revealed that he had come to terms with Mayweather's manager, Al Haymon, after negotiating a deal through HBO Sports president Ross Greenburg. According to Arum, all terms had been agreed to by both sides and all that was needed was Floyd Mayweather's approval; an approval which Arum was only going to wait for until midnight pacific time this past Friday before beginnig the search for a different opponent. When that deadline came and went and there was no response from Mayweather, everyone was left wondering why.

"Like I said, I'm just supporting my family and relaxing," Mayweather stated on Sunday. "That's what I'm doing right now." Although Mayweather was tight-lipped on anything related to Pacquiao or his next move, rest assured that he won't be quiet for long. My guess is that Mayweather will likely have much more to say shortly after Bob Arum announces Pacquiao's next opponent, who will likely end up being Antonio Margarito. That being said, it indeed seems like boxing is the furthest thing from his mind at this point. If anyone was holding out hope that a deal could still be struck in the coming days, it's probably time to forget about it.
[ Follow Ben Thompson on Twitter @fighthype ]