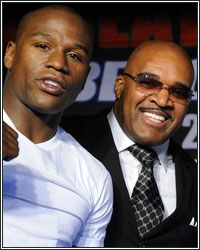 "Here are the facts. Al Haymon, Richard Schaefer and myself speak to each other on a regular basis and the truth is no negotiations have ever taken place nor was there ever a deal agreed upon by Team Mayweather or Floyd Mayweather to fight Manny Pacquiao on November 13. Either Ross Greenburg or Bob Arum is not telling the truth, but history tells us who is lying," stated Leonard Ellerbe, CEO of Mayweather Promotions, who released an official statement denying comments made by Top Rank promoter Bob Arum regarding alleged negotiations that took place for a November 13 clash between Floyd Mayweather and Manny Pacquiao.

According to Arum, in what amounted to be the equivalent of passing notes in high school, both he and Mayweather's manager, Al Haymon, reached a deal, without ever having a verbal conversation, after negotiating terms through HBO Sports president Ross Greenburg. Again, according to Arum, all that was needed to finalize the deal was Mayweather's approval, an approval which Arum set a July 16 deadline for. After that deadline came and went with no response from Mayweather, Arum would hold a conference call to explain the details of his negotiation process with Ross Greenburg. Ellerbe, however, claims those negotiations never happened in the first place.

Evidently, as Ellerbe pointed out in his statement, somebody isn't telling the truth. The question is who? Obviously, Team Mayweather would have you believe it's the man who's famous for saying, "yesterday I was lying, today I'm telling the truth." Personally, I tend to side with them, especially considering how compassionate and understanding Arum was acting during the conference call. On several occassions, he instructed the media to "cut Mayweather some slack" and not to be too hard him for whatever reason he may have for not wanting to fight on November 13. Sorry, but I'm just not buying Arum's newfound sympathy for Floyd Mayweather. There's a reason why Arum gave the deadline and already had a conference call scheduled the second after that deadline passed. Surely you don't think that if negotiations truly were ongoing and Mayweather had indeed contacted them prior to the deadline, that they would have announced the biggest fight in boxing at 3AM ET/Midnight PT, do you?

It should be interesting to see what HBO Sports president Ross Greenburg has to say about all of this and which side he will back. Given their strong relationship with Al Haymon, I'm guessing it will be Mayweather's rendition of the story. It's starting to sound like these "negotiations" were nothing more than just a brief conversation held in passing.
[ Follow Ben Thompson on Twitter @fighthype ]