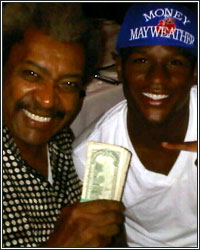 "I'm chillin with Don King," stated undefeated multi-divison champion Floyd Mayweather. Say what? Chillin' with Don King? In his latest Twitter update, Mayweather posted the comment, along with a few pictures of himself and the Hall of Fame promoter. Both men were all smiles as they appeared to be enjoying a nice dinner. Where exactly they were and what exactly they were doing is unknown at this point, but one has to wonder if this might have anything to do with the future of Mayweather's boxing career.

In April of 2009, prior to making his official return from retirement, Mayweather paid a visit to Don King in Florida to discuss, well, who knows what. According to King, Floyd just "popped in" and was in town for "a barbecue and a chat and some fun" as he spent several days hanging out with the legendary promoter. Rumor has it that the impromptu visit was unbeknownst to his manager, Al Haymon, and after learning that Mayweather was in Florida to meet with King, Haymon immediately jumped on a jet and flew down to Florida, where he abruptly put a halt to any further discussions. Whether or not that's true or if Mayweather and King were discussing the future of his career at the time is still a mystery, but there's no denying that both men are having a good time hanging out now, as evidenced by the photos that were posted.

Exactly what they were talking about as they enjoyed the sizable 20-pound lobster that Mayweather picked out is unclear, but you have to wonder if, at some point, the topic of Manny Pacquiao may have been brought up. Oh to be a fly on that wall. The last time negotiations between Mayweather and Pacquiao collapsed, King boasted that he would have made the mega-fight with ease had he been involved. "If I was involved with this, it would have been done by now. You've got guys arguing over $50 million and that's only because they feel disrespected," he would tell George Willis of the NY Post back in December. "They're playing with the golden goose and when they kill the golden goose, they're going to blame the other one. It's going to be a blame game."

Sure enough, seven months later, Don King's statements continue to ring true.
[ Follow Ben Thompson on Twitter @fighthype ]