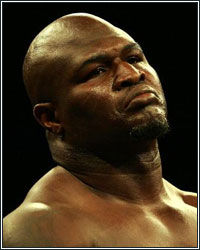 Rising UFC light heavyweight Jon Jones, who faces Vladimir Matyushenko this Sunday at UFC on Versus 2, recently had some choice words for UFC newcomer and future boxing Hall of Famer James Toney. "Do you really think you're going to uppercut a collegiate wrestler when he's coming full force into a double leg dive? I think he [James Toney] is just really naive to think that with hand combinations alone, he's going to be able to defend takedowns from the clinch and double leg dives, so I think he's just ignorant in a way and I don't really have a hard time calling him ignorant because of some of the statements he's made about our sport," Jones commented during an interview on TapouT Radio, going out of is way to stress his opinion that Toney is an "ignorant" fighter. Naturally, it didn't take long for word of his comments to reach Toney, who took time out of his training to contact FightHype.com and fire back at Jones.

"Jon 'Homo' Jones better do his research before he talks shit about me. He doesn't know anything about me. He's about to learn though because when I see Jon Jones, I'ma slap his ass. I don't play those games. He better learn how to fight before he talks shit about me," stated a heated James Toney, who will be making his Octagon debut against UFC Hall of Famer Randy Couture, a challenge that he says Jones would have never had the nerve to do. "My debut fight in the UFC is against a Hall of Famer. Who the fuck did he fight in his first fight in the UFC? [Andre Gusmao] Isn't he like 22? He better go find some tapes of me because I'm not the one to fuck with and he gonna see that when I bump into his ass. keep my name out your mouth boy," he continued.

Although a fight inside of the Octagon may be highly unlikely, assuming Toney continues to campain at heavyweight after his bout with Couture, the war of words between both fighters has definitely begun and when it comes to trash talk, "Bones" has definitely bitten off way more than he can chew. "Jones is the 2010 Rampage Jackson; both straight up yes men. Tell him to go drink an Ecstasy drink because I heard that's what he likes to do; just another bitch ass New Yorker," Toney added.

To be fair, it appears as though Jones was simply trying to defend his sport with the comments he made about Toney, as many MMA fighters have taken shots at boxers, proclaiming their sport to be the superior of the two. However, I am curious to know why he would use the word "ignorant" to describe him, considering that Toney has in fact been training for months as he attempts to learn the many different aspects of mixed martial arts. While it's true that Toney has a very short period of time to come up to speed, the fact remains that he's not taking his fight with Couture, or the sport for that matter, lightly at all. If Jon Jones really thinks that Toney is entering the Octagon with the hopes of landing an uppercut while Couture is attempting a double leg dive, well, in my opinion, that is a little naive and ignorant. Perhaps Jones should pay a visit to Toney to see exactly how his training is going before attempting to comment on something he knows nothing about!
[ Follow Percy Crawford on Twitter @MrLouis1ana ]